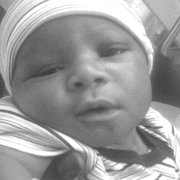 Baby Boy Macario McKinney-Mackey
unknown - unknown
Funeral Service for the late Baby Boy Macario McKinney-Mackey, 9-days-old, of Sandy Point, Abaco will be held on Saturday August 25th, 2012 at 10:00am at Mt. Zion Baptist Church, Sandy Point, Abaco. Officiating will be Rev. Napoleon Roberts assisted by other ministers. Interment will follow in Sandy Point Public Cemetery, Abaco.
He is survived by his mother: Denise McKinney; father: Marcus Mackey; sisters: Deneisha Dean and Davisha Lightbourn; brother: Marcus Mackey Jr.; grandmother: Louise Green, Janet Mackey and Valeria Lightbourn; grandfather: Phillip Mackey; niece: Amoy Brown; aunts: Shantell Green, Keva Dean, Gardena Fox, Cynthia McKinney, Garnell Weech, Jamika, Gail and Shavonne Mackey, Naomi Cumberbatch, Anastacia Archer, Velma Forbes, Amelia, Tina and Shavel Burrows, Cara Archer, Veronique Swain, and Catherine Simms; uncles: Ken, Kelsey, James and Otis Green, Eric McKinney, Ricardo, Randy and Phillip Mackey Jr., Mark Anthony Cooper; grand aunts: Val and Marjorie Cooper; and a host of other relatives and friends including: Lenny, Daphanie and Lanaire Bain, Diane Colebrooke, Anastacia Dames, Kelia Green, George and Margaret Burrows and Family, Napoleon Roberts and Mt. Zion Baptist Church Family, Pastor Erskin Wells and Family, Sandy Point Community Clinic, Lightbourn Family, Maxine Burrows and Family, Shelia Grant and Family, Shirley and Janette Saunders and Inez Fox; special thanks: Sphooner Bay; others too numerous to mention.
Viewing will be held in the Celestial Suite at Restview Memorial Mortuary and Crematorium Ltd., Robinson and Soldier Roads on Thursday (TODAY) from 12NOON to 6:00pm and at Mt. Zion Baptist Church, Sandy Point, Abaco on Friday from 3:30pm to 6:00pm and again at the church from 8:30am until service time on Saturday.