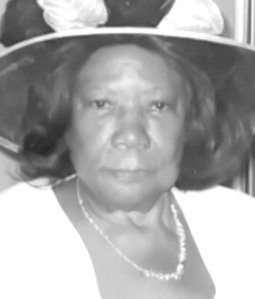 Winifred ""Winnie" " Patricia Bullard-Marshall
unknown - unknown
Sapphire Funeral Notice
For
Retired Nurse Winifred Patricia "Winnie" Bullard-Marshall, 87, of #1543 Thirty Ninth Street, West Palm Beach, Florida and formerly of Nassau will be held on Saturday, August 18, 2012 at 11am at St. Anne's Anglican Church, Fox Hill Road North. Canon John Clarke will officiate and burial will be in St. Anne's Church Cemetery, Fox Hill Road North.
The Radiance of this "Sapphire of A Gem" will always glow in the hearts of her:
Children: Cyril John Sr. (Janet) Bullard of the Bahamas, Deborah Ginger (Gregory) Simms of Florida, Candy Matthews of California, Tracy (Coston) Bullard of Florida, Irma Adderley, Remelda (Lester), Christine (Richard) Hall and Sylvia Gaitor-Brice of the Bahamas;
Sisters: Lezera Butler, Erma Finlayson, Maude Glinton and Shirley Cravatt;
Sisters-in-law: Winifred Blair and Effie Sands;
Grandchildren: Nina (Orlando) Forbes, Dr. Cyril John Jr. (Chandra), Janeen, Jewel, Barry (Tamica), Tina, Brent and Crystal Bullard, Raynell (Angel) Aponte, Jamila (Augustin) Lorfils, Adrien Alexander, Tempera (Gary) Graham, Bennie and Jillian Herring, Chantell (Jon) Philostin, Casquinel Facon, Suzanne (Randy) Rolle, Anthony (Neterah) and Raymond Hall, Cindy (Teno) and Renauld (Camilla) Williams, Ruel, Rachelle, Steven (Nicola) and Andrew Strachan, Tameko (Antonise) and Troy Collie, Deon and Kimberley Campbell, Michael, Geno and Alan Bullard;
Numerous: Great Grandchildren and Great-Great Grandchildren;
Nephews and Nieces: Kirk, Rosemary, Wendy, Shelly, Terry, Elton, Hilda, Carolyn, Wilbert, Dominique, David and Shavon.
Visitation will be at St. Anne's Anglican Church, Fox Hill Road North on Saturday, August 18, 2012 from 10:00am to service time.