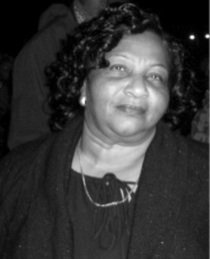 Patricia ""Patsy" " Irene Sands
unknown - unknown
Funeral Service for the Late Patricia "Patsy" Irene Sands, 55, of Governor's Harbour, Eleuthera and formerly of Nassau, will be held on Saturday August 18th, 11:00 a.m. at Ebenezer Baptist Church, Cupid's Cay, Governor's Harbour. Pastor Kipling Johnson assisted by other ministers of the Gospel will officiate. Interment will follow in Governor's Harbour Public Cemetery.
She is survived by her Husband: John Sands; Mother: Ella Turnquest-Delancy; Daughters: Shantell and Sherice Sands, and Claudia Davis; Sons: Pedro, Andre and Jerome Sands; Son-in-law: Omar Davis; Daughters-in-law: Jennifer and Sonia Sands; Grandchildren: Ayishia, Ozaria, Andre Jr., Kurran, Timothy Jr., Omarion, Salathiel and Tristan; Sister: Ann Delancy-Pinder; Brothers: Arthur Turnquest Sr., Sam, Sherwin and Sidney Delancy and Carlton Knowles; Sister-in-laws: Sofie Turnquest, Brendalee and Samantha Delancy, Brendalee Knowles, Kelsie, Ruth, Deidre, Sonia Sands and Melinda Taylor; Brother-in-laws: Stephen Pinder, James, Peter and Dwayne Sands; Adopted sister: Laverne Butler, Betty Miller and Sandra Bethel; Adopted daughters: Philisea, Yvonne Bethel and Coral Fernander-Burton; Adopted sons: Victor Gierszewski, and Shavargo Maurice; Aunts: Myrtle Culmer, Ellen Johnson and Alvida Delancy; Uncles: Alfred Delancy, Napoleon II, Anthony, Christopher and Vincent Turnquest; Aunts-in-law: Eulie Fernander, Agnes Bethel, Florence Brown, Evelyn Sands and Lavinia Johnson (of Okala, Florida); Uncle-in-law: Alexander Sands; Numerous nieces and nephews and a host of other relatives and friends.
Friends may pay their last respects at Bethel Brothers Morticians, #34A Nassau Street on Thursday from 1:00 p.m. to 5:00 p.m. and on Friday at the church in Governor's Harbour from 7:00 p.m. until service time on Saturday.
Please visit our website: www.betelbrothersmorticians.com to post your condolences to family and friends.