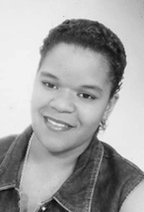 Michelle Strachan
unknown - unknown
Funeral Service for, Michelle Strachan, 37, of Eastern Estates, Cumberland Place, will be held on Saturday, August 18th , 2012 at 2:00 p.m., at Annex Baptist Church, Wulff Road and Pinedale Street. Officiating will be Apostle Mitchell E. Jones; assisted by Rev. Willard Cunningham Sr. Interment will follow in Woodlawn Gardens, Solider Road.
Left to cherish her memory: one daughter: Megahn; grandfather: George W. McKinney; step grandmother: Barbara McKinney; adopted mother: Helen Johnson; sister: Kim (Kevin) Roberts; brothers: Everette Jr., Trevor Sr. and Brent Strachan; nieces: Marissa Strachan and Ulecia Culmer; nephews: Everette III, Jade, Ramon, Chad, Trevor Jr. and Trent Strachan and Kevin Roberts Jr.; aunts: Beverly McKinney, Georgiemae Bethel, Deborah, Enid and Jeleta McKinney, Thelma Seymour and Cyprianna Smith; uncles: Whiteley Sr. (Pearline), Barry (Ava), Andrew, Samuel, Glen (Inga) and Talbot (Yannick), Tyrone Strachan and Family, Acre Strachan and Abby Strachan; grandaunts: Catherine North (Miami Florida), Enid (Wilfred) and Queenie Foard of Boyton Beach, and Yvonne Miller; granduncles: Matthew (Miami), Jerome (Pittsburgh) and David McKinney and John Adderley; great-grandaunt: Queenie Smith; great-granduncle: Hartman Moncur; other relatives including: Ashlar and Anree Colebrooke, Kim Duncombe, Michelle (Richard) Horton, Richard, Ramon, Farrintino, Whiteley Jr., Christina, Jonathan McKinney, Bonnie McKinney, Maurice Bethel, Christopher McKinney, Verniqua, Vernesko and Verneisha Burrows, Jerniqua "Dukie" "Mama" Rolle, Kieran, Seige, Margeaux and Connor McKinney; Talbot Jr., Talaune, Tanique McKinney; Kirkwood, Cheryl, Elaine, David, Nadia, Kenrick Simms, Gertrude Pearce, Indiana Thompson, Paula Knowles, Valderine Heastie and Keith and Ulric North, Wayde King, Miquel, Monique Jarmon, Danielle Krafft, Howard Foard, Anthony and Charles McKinney, Lynn, Stephanie, Sheila, Bernadette, Nadia, Annamae, Georgina, Sybline, Evelyn, Daniel, Michael Delancy, Voldi, Vincent, Glen, Leslie, Tan, Vaughn, Michael Taylor, Larry Major, Karel Major and Betty Knowles; numerous cousins from the Major, Smith, McKinney and Strachan Families and many other relatives and friends including: Lawrence Seymour, Orlando "Landlord" Miller, Tyrone Archer, Hepburn Alley and Hines Lane Family. Mrs. Burrows (Progress Academy), Maxine Lightfoot Patrick Adderley and Evelyn Gibson.
Special Friends: Lawrence Seymour, Michael McInnis, Orlando"Landlord" Miller, Tyrone Archer, Hepburn Alley and
Hines Lane Family, Mrs. Burrows (Progress Academy), Maxine Lightfoot, Patrick Adderley and Evelyn Gibson and many others.
There will be no viewing.
Friends are welcome to sign the register book at Butlers' Funeral Homes & Crematorium, Ernest and York Streets on Friday August 17, 2012 from 1:00p.m. to 4:30 p.m. and at the church on Saturday from 1:00 p.m. until service time.