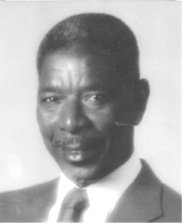 Kermit George Williams
unknown - unknown
Funeral Service for the Late Kermit George Williams, 78, of #33 Providence Avenue, Chippingham and formerly of Upper Bouge, Eleuthera will be held on Saturday August 18th, 11:00 a.m. at St. Agnes Anglican Church, Baillou Hill Road. Archdeacon I. Ranfurly Brown and Fr. Neil Nairn will officiate. Interment will follow in St. Agnes Cemetery, Nassau Street.
He is pre-deceased by his wife: Dorothy Williams. He is survived By: Children: Four (4) sons: Leslie, Kirkland, Kendrick & Lloyd Williams; four (4) daughters: Alkeitha Colebrooke, Charisse Lunn, Jacqueline Martin and Elizabeth Russell; two (2) adopted Sons - Michael (JR) Fernander, Luther Ferguson; fourteen (14) grandchildren - Jasper Lunn, Aquindo, Eljay & Arianne Colebrooke, Chelsi, Chadwick & Charlot Russell, Jacinda, Sara, Kadin, Quanisha, Latisha, Shaquille, Terquille & Brandon Williams; one (1) brother-Retired Superintendent of Police Jaciel Williams; four (4) sons-in-law: - Livingston Colebrooke, William Lunn, Howard Martin & Carlton Russell; two (2)- daughters-in-law: Laura & Shacantila Williams; three (3)- brothers-in-law: Wilfred, James & Cecil Glinton; three (3) sisters-In-Law - Merlene Glinton, Frizzy & Daphne Williams; and Numerous other relatives and friends.

Friends may pay their last respects at Bethel Brothers Morticians, #34A Nassau Street on Friday from 10:00 a.m. to 6:00 p.m. and on Saturday at the church from 10:00 a.m. until service time.
Please visit our website: www.betelbrothersmorticians.com to post your condolences to family and friends.