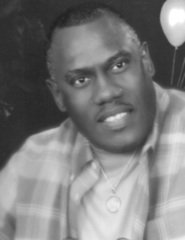 George Ricardo Clarke Sr.
unknown - unknown
Funeral Service for the Late George Ricardo Clarke Sr., 53, of #23 Sunderland Road, Stapledon Gardens, will be held on Saturday August 18th, 10:30 a.m. at The Parish of the Most Holy Trinity Anglican Church, Trinity Way, Stapledon Gardens. Rev. Fr. Martin Fox assisted by Rev. Richard Wood and Rev. Fr. Mervyn "Buck" Johnson will officiate. Interment will follow in Lakeview Memorial Gardens, John F. Kennedy Drive.
Father: David Clarke (deceased) He is survived by his loving and devoted wife Tracey Italia Clarke (nee) Smith; Mother Ruby Marina Bethel-Clarke; Sons: George Ricardo II & Ruben Kane Ashby Clarke and Colin Craig Christie II; Daughter: Italia Marina Clarke; Brothers: Michael (deceased), Greg and Ken Clarke, Castell Rolle; Sisters: Debbie Jones, Joy Culmer, Antoinette Clarke and Camille Stuart; Uncles:  Perry, Vincent, Joseph, Theophilus, Frederick, Edward, Jackson, Mark, Dillon, Dr. Nelson Clarke and Millard Gardner; Aunts: Carmetta, Agnes, Beverley, Dorothy, Audrey, Anatol, Wendy, Lillis, Patricia, Syretta and Thelma; Numerous nieces and nephews including:  Vaughn, Chloe, Christal, Tammy and Brandy Clarke, Simone Smith, Bentley Smith and Kyalia Major; Cousins: Granville, Idelle, Mary and Maryann Clarke; Father & Mother In-law: Burton & Barbara Smith; Grandmother: Julia Davis & Family (including all aunts, uncles and cousins from the Davis family); Sisters-in-law: Monique Major, Cheryl Smith; Brothers-in-law:  Richard Smith, Hon. Dr. Kendal Major (Speaker of the House of Assembly); Godchildren: Ryan, Derek, Colin, Jasmine, Quincy, Antoinesha, Edwin, Jeffery Harding Jr. and a host of other godchildren too numerous to mention. Special families & friends:  Hepburn, Minus, Munnings, Gardiner, Bethel, Stuart, Burrows, Flowers, Julia Davis and Family, Ingrahm, Knowles, Sweeting Christie and Kerr Families.  Vaughn & Vonya Albury & Family, Rodney and Frances Williams, Elijah & Sherrie Brice & Family, Bonnie Rolle & family, Brian & Patrice Webb & Family, Stevenson Family, Micheala Whylly & family, Dale and Avon Bethel & family, Beatrice Todd, Theophilus and Antoinette Glinton, Mavis Major & Family, Beverley Evans & Family, Bernadine Carter & Family, Eneas & Ludell Theophilius, Evelyn Pratt, Debbie Stubbs, The Kemp Family and the Stapledon Garden Boys, The Holy Trinity Parish Family, Fr. Mark Fox, Fr. John Kabiga and Deacon Richard Wood & Families,  Fr. Mervyn "Buck" & Cora Johnson, Brice's Cell Group, Anglican Christian Men (ACM), The Usher Board Ministry and Cursuillo, The National Insurance Board Family, (especially "The Early Birds") Saint Leo University Family, St. Augustine's College Class of 1977, Bahamas Customs, Bahamas Supreme Court & Road Traffic Families, The Network Marketing Group and staff of the Sick and Asthma Bay of the Princess Margaret Hospital, and a host of other relatives and dear friends too numerous to mention.
In lieu of flowers, donations may be sent to Ruben and Italia's Educational Fund
c/o CommonwealthBank Acct# 7033240823
Friends may pay their last respects at Bethel Brothers Morticians, #34A Nassau Street on Friday from 10:00 a.m. to 6:00 p.m. and on Saturday at the church from 9:30 a.m. until service time.
Please visit our website: www.betelbrothersmorticians.com to post your condolences to family and friends.