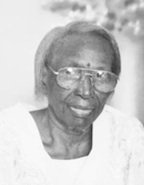 Carrie J . Rolle
unknown - unknown
Last rites for Deaconess Carrie J .Rolle, 87, of Rolleville, Exuma will be held on Saturday at
2:00 P.M. at Salem Union Baptist Church, Taylor Street off East Street. Officiating will be
Rev. Dr. C. W. Saunders C.B.E. JP, Superintendent Bahamas Baptist Union of Churches,
Rev. Dr. Adam J. Brown J.P. President Exuma District Convention of Bahamas Baptist Union,
assisted by Rev. Cedric Smith President Christian Council, Pastor, Interment in Lakeview Memorial Gardens, JFK Drive and Gladstone Road.
She is survived by 1 Brother: Clifton 'Cop' Mckenzie; Adopted Son and his wife: Rev. Kendal and Lavern Mckenzie; Godchildren: Debbie, Jenniemae and Anthony Ferguson; Numerous nieces and nephews including Daniel Aaron, Deacon Alfred, Labon, Daniel, Chester, Arthur,
Sgt. 286 Clayton, Preston, Michael Mckenzie, Dunsil Rolle, Ustace, Rolston Knowles, Lezzerra and Alicia Rolle, Creola, Henrietta, Eloise, Katy, Irene, Maryann, Susan and Nancy Mckenzie, Deaconess Helen Knowles, Janet Storr, Janet Miller, Avis Eneas, Marjorie Barr;
Numerous Grand Nieces and Nephews including Gordon Mckenzie, Kenrick Thompson, Davina, Romona, Constable 1767 Donovon, Marine Seaman 2965 Dorrian, Dana, Dominique Mckenzie and Novien Yarber; Numerous Great Grand Nieces and Nephews; 1 Sister-in-law: Katherine Mckenzie; Brother-in-law: Fred Rolle; Host of other relatives and friends including Loranna Rolle and Family, Frederick Bethel, Nortral Rolle, Howard Storr and Family, King Mckenzie and Family, Johnathan Mckenzie and Family, Vincent Mckenzie and Family, Nettie Duncombe and Family, Anita Mckenzie and Family, Eyvonne Mckenzie and Family, Magnolia Rolle, Benjamin Mckenzie, Lillian Rolle and Family, Leotha Romer and Family, Willimae Poitier, Lillis Stuart and Family, Judy Simon and Family, Rocker Williams and Family, Roselyn Mckenzie and Family, Carmetta Rolle and Family, Hervis Rolle and Family, Mervin Rolle and Family, Florence Rolle, Rosetta Wilson, Patrick Symonette, Father Mario Conliffe, Rev. Franklyn Mckenzie, Hazel Knowles, Ena Rolle, Dorolyn Rolle, Garnet Rolle, Rev. Douglas Rolle and Family, Cynthia Davis, Judymae Brice, Ernestine Brice Bowe, CPL 475 Perry and Carol Brice, Jayson Brice, Barbara Bethel, Shammond Nairn, Tensy Ferguson, Kira, Felisa, Latasha and Darrion Ferguson, Shadrack and Loretta Collins, Rena Mcphee and Family, Mt. Herman Church Family, Althea Ferguson, Deacon Richard Clarke, Zee and Shirley Williams, Geneva Rolle, Fairlyn Smith, Patrick Rolle, Cephas Rolle, Susan Rolle, Patrice Rolle, Anthony Rolle, Nigel Rolle, Van and Vera Rolle, Naomi Curtis, Geneive Mckenzie, Florence Smith, Mae Munnings, Alice Munnings, Dr. Michelle Grant and Social Service Department, Rev. Adam and Minister Margaret Brown and the Ebenezar Union Baptist Church Family, Rev. Charles W. Saunders and the Salem Union Baptist Church Family and the entire Rolleville Community.
The body will repose at Kurtiss Memorial Mortuary, Robinson Road and Fifth Street on Friday from 12:00 Noon until 5:30 P.M. and at the church on Saturday from 1:00 P.M. until service time.