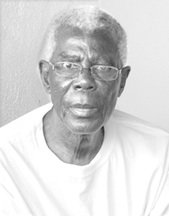 Arlington Spike Mackey
unknown - unknown
Funeral Service for Arlington Spike Mackey, 82, of Freeport, Grand Bahama will be held on Friday, August 17, 2012 at 10:00 a.m. at St. John's Jubilee Cathedral, Settler's Way, Freeport, Grand Bahama. Officiating: Bishop Godfrey R. Williams; Assisted by: Bishop Wilfred Mackey; Interment will follow in the Grand Bahama Memorial Park No.II, Settler's Way and Frobisher Dr., Freeport, Grand Bahama.
Left to cherish his memories are his wife: Cordella Mackey; children: Rodney, Cyril and Barrington Mackey, Junior and Desmond Wilson, Linda Williams, Sandra Moss, Leann Weaver, Patrice Symonette, Adrianna Mackey, Janet Lemonius, Marion Coakley-Moss and Pearl Nixon; brothers: Wilfred, Wellington, Harold and Abraham Mackey, Arthur, David and Dr. Eric Brown; sisters: Adrianna Lowe, Rachel Mackey, Mary Bowe, Mildred, Olive, Clara, Katherine Edgecombe, Gretal Williams, Ella Hall; daughters-in-law: Bernadette and Kendra Mackey and Darnell Wilson; sons-in-law: Henry Williams, Edward Moss, Tom Weaver, Nathaniel Symonette and Earl Lemonius; grandchildren: Rodney Jr., Terrell, Diedre, Kaylia, Berrando, Cyril Jr., Alicia, Tenicka Taniska, Teran, Anastacia, Zion and Justus Mackey, Ivy and Garvin Williams, Rinthea Carey, Tammy, Tiska and Rico Mackey, Philbroux Richardson, Maceio Pinder, Myleka Hanna, Jennifer and Jamie Lee Weaver,  Philano Thompson and DeVante' Symonette, Aydan and Arianna Cargill, Tatiana and Junior,  Desmond Jr., Ashley, Pierre and Tajariah Wilson, Nicolas, Jabar and Tiana Lemonius; numerous great and great-great-grandchildren; numerous nieces and nephews including: David, Violet, Doswell, Brenda, Shantel, Harold, Joann, Garvin, Faye, Terry, Daphne, Tanzania, Donna, Monique, Sapora; in-laws: Inez, Michelle, Christine, Madrie, Stephanie and Mackey, Elsada Mutueel, Yvette, Lola, Iona Johnson, Gerald Bowe, Othniel, Ralford and Derkin Johnson; and a host of other relatives and friends including: The Knowles family, Tyrone Smith and family, Mr. Ambrister and family, Pap Williams, Eulie Strachan, Mr. Major, Mr. Clarke, Leroy Bell, Mr. Pennerman, Pleasant Bridgewater and family, Mary and Hon. Obadiah Wilchcombe, Christine Major, Eric Woods, Marlon, Carol Rolle and family, Mervin Wallace, Bishop Raymond, Thomas and Nathaniel Mackey, Prince Thompson and family, Rt. Hon. Perry Christie and family, Hon. Greg Moss, Hon. Dr. Michael Darville, Audley Leathon and Family, Val Lockhart, Lynn Rolle, Simeon Anderson and family, Dr. Kizzy Coakley, The Pioneer's Loop family, The Grand Bahama Taxi Union, Harbour Taxi Crew, Government Ministers, Stalwarts and Members of the Progressive Liberal Party.
Viewing will be held at The PLP House, East Sunrise Highway, on Thursday, August 16, 2012 from 12:00 p.m. - 6:00 p.m. and on Friday, August 17, 2012 from 9:00 a.m. to service time at the church.