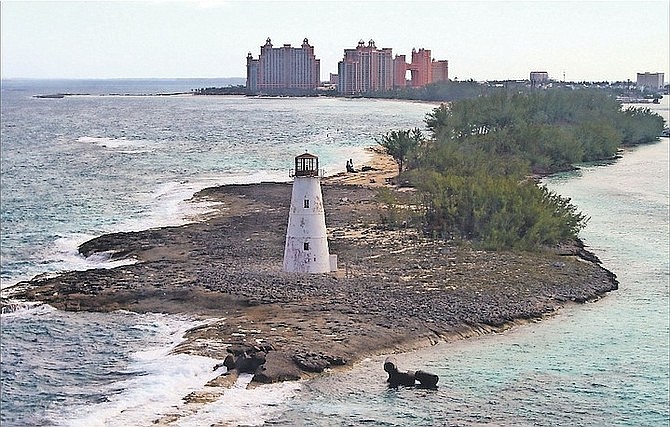 By JADE RUSSELL
Tribune Staff Reporter
jrussell@tribunemedia.net. 
BAHAMIAN entrepreneur Toby Smith said yesterday he still wants to move forward with his Paradise Island lighthouse project despite the ongoing challenges he has faced.
Mr Smith, the principal behind the $3m Paradise Island Lighthouse & Beach Club project, made his comments when asked about the government's approval of Royal Caribbean International's $110m development on Paradise Island.
 He told The Tribune he hopes to still bring the project into fruition.
 Mr Smith said in his view RCI has not received final approval to go forward with its plans, noting there are still various steps to be taken since the land is considered a private area.
 "As far as I'm concerned there are various steps in the approval process and RCI hasn't received final approval. The land remains as private potential land. And the Bahamian people that decide if they're willing to accept the zoning, becoming commercial," he said.
 Despite some of the ongoing controversy with his project, Mr Smith said his end goal is to see the project executed.
 "The end goal for me is to see our project brought about on a foundation of ambitions. And when the government calls for Bahamians to seize opportunities, they're embraced and allowed to proceed," he said.
 Earlier this week, Prime Minister Philip "Brave" Davis invited Mr Smith to reapply for government approval of his project. Mr Davis said he had asked Mr Smith to submit a fresh application after Chief Justice Ian Winder ruled last month that the entrepreneur did not have a valid and binding Crown land lease for five acres of land that would facilitate his project in the Colonial Beach area.
 "The court has ruled that he had no interest in the land and I've invited him to, if he is still interested, to reapply for consideration of the government of his project and we await his application," Mr Davis said of Mr Smith.
 Tribune Business had previously reported that it thought that reapplying could undermine and cut across Mr Smith's prospects of appealing the Chief Justice's ruling to the Court of Appeal.
 Mr Smith had been in a long-running battle with both the cruise line and the government in the Supreme Court. Mr Smith has asserted he has a binding lease from the Minnis administration for at least two acres of Crown land that Royal Caribbean is seeking to use in its project.
 Minister of Tourism, Investments and Aviation Chester Cooper had previously said that the land currently proposed under the RCI project "has not been subject to any dispute or litigation.
 Given that Royal Caribbean has reduced its Crown land footprint from seven to four acres, and no longer appears to need the two that it was contesting with Mr Smith, it would appear a potential pathway has opened for the two investors and projects to co-exist side-by-side, Tribune Business previously reported.