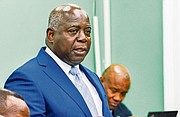 By BRENT STUBBS
Senior Sports Reporter
bstubbs@tribunemedia.net
LOOK for the construction of a new 50-metre pool in Grand Bahama and the development of various facilities throughout the Family Islands during this fiscal year of the Progressive Liberal Party's tenure in office.
The promises were made by Prime Minister Philip "Brave" Davis during the Budget 2023 report to Parliament last week in the House of Assembly. It's expected that the government will allocate more than $20 million for the three-headed ministry of Youth, Sports and Culture.
During his address, Davis, the Minister of Finance, said as a part of our commitment to investing in young people, sports and the arts, his government has also budgeted to host the CARIFTA Triathlon Championships in August, the CARIFTA Swimming Championship in 2024 and the return of the World Relays in 2024.
"The hosting of these sporting events plays a crucial role in our 'Sports in Paradise' initiative, as it not only celebrates athleticism but also creates a platform for aspiring Bahamian athletes to shine," Davis said.
"This in turn can lead to a plethora of opportunities and avenues for their future success."
As for the construction of the new pool in Grand Bahama, Davis said because of his long association with swimming, it will come as no surprise that he's very excited that we have made provision in this budget to construct a 50-metre pool in Grand Bahama.
And the Member of Parliament for Cat Island, Rum Cay and San Salvador made it quite clear of his desire to see the development of the sporting facilities in the Family Islands.
"The facility in Cat Island is already near completion and serves as a benchmark for other facilities throughout The Bahamas," he stated.
Just last month at the National Family Island Regatta in George Town, Exuma, the Bahamas Government announced that while they proclaimed sailing as the national support, Davis assured the sailors that his government has set aside funding in this budget to develop it.
In the aftermath of the Covid-19 pandemic, Davis said they appreciate that numerous civic and non-governmental organizations are facing persistent challenges in resuming their usual operations.
But he charged that this budget contains increased allocations for independent schools and children's homes to be able to function in the manner that they should prior to the pandemic.
"This, combined with the increase in social services benefits which was a feature of last year's budget, demonstrates this administration's commitment to assisting the most vulnerable among us," he summed up.
Minister of Youth, Sports and Culture Mario Bowleg is expected to elaborate a little more on the allocations for sports when the debate on the budget takes place in the House of Assembly.