With CHARLIE HARPER
A new political movement has ambitions for next year that scare Democrats right down to their shoes. It's called No Labels, and its leaders aspire to offer a third-party candidate for president in 2024. Dems feel this will hand an election to Trump that he couldn't otherwise win. History shows they might be correct.
In 1992, an unknown governor from Arkansas won the Democratic nomination for president at least partly because better-known party insiders figured that the incumbent Republican president couldn't be beaten. Then a couple of things happened. First, President George H W Bush issued and then reneged on his famous "Read my lips: No new taxes" pledge.
Never mind that those very tax increases helped to set the stage for the phenomenally successful American economic decade of the "Internet boom" 1990's. Tax-averse conservatives resented Bush's backtracking.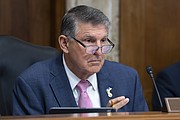 Many observers feel that Bush's pledge violation cost him that election and vaulted Bill Clinton to worldwide fame. While it played a role, perhaps more important was the formidable presence in the 1992 race of third-party candidate and eccentric Texas millionaire H Ross Perot.
Perot had run before but in 1992, his candidacy almost certainly siphoned off enough Bush votes to push Clinton over the line. Perot won 18.9 percent of the popular vote. That was the highest share of the vote won by an independent third-party candidate in 80 years. Perot finished second in two states (Utah and Maine) and earned significant support in every state. This election was the last time that either a Democratic or Republican candidate received less than 40 percent of the popular vote.
Perot's platform clearly titled conservative, so it takes little imagination to attribute Clinton's victory significantly to Perot's active candidacy.
The Bush family got a make-up call eight years later. In that race, HW Bush's son George Bush, the governor of Texas, was matched against Clinton's vice-president, Tennessee Senator Al Gore. Again, a third-party candidate proved decisive. In this case, it was long-time liberal consumer advocate turned political gadfly Ralph Nader.
Nader and many of his supporters believed that the Democrats had drifted too far to the right, so he and his Green Party had every right to contest the election, even though his platform was clearly most closely aligned with the Democrats'.
Throughout the campaign, Nader dismissed his spoiler potential in an election that always looked to be close. Frequently asked how he felt about potentially giving Bush the election, Nader said "Al Gore thinks we're supposed to be helping him get elected. I've got news for Al Gore: If he can't beat the bumbling Texas governor with that terrible record, he ought to go back to Tennessee."
Bush won with fewer overall votes than Gore in an election ultimately decided by the US Supreme Court. The key was Florida, where an expected majority of Nader's 97,421 votes would have given the state and election to Gore.
This history is all suddenly relevant because of a political movement called "No Labels." Founded in 2010, this aggressively non-partisan movement aims to offer to voters a better alternative than the expected nominees of the two major American political parties. It also tends to promote middle of the road policies on hot-button political issues that polls show most Americans support.
In 2017, for instance, No Labels helped to start the Problem Solvers Caucus in the House of Representatives, a bipartisan group of around 60 congressmen and women which has backed issues such as funding for infrastructure, criminal justice reform, and gun safety in schools.
Potential 2024 standard-bearers for No Labels are rumored to be West Virginia Democratic senator Joe Manchin and former Republican Maryland governor Larry Hogan. Both figures tend toward the middle of the political spectrum and away from their parties' more extreme positions.
Democratic politicians in Washington and elsewhere are hard at work to discredit this potential third-party election spoiler. It's another bizarre element in what looks like a crazy election.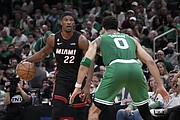 Florida sports heat up in the playoffs
The words below appeared in this space three weeks ago.
"It's starting to look like our "local" South Florida pro basketball and ice hockey teams are on a course to deliver memorable post-season runs in the NBA and NHL playoffs.
"Not many prognosticators had this attractive, overachieving Miami Heat team beating Milwaukee to start the playoffs, so who knows? It will be fun to watch.
"Similarly, not much was expected of the eighth-seeded Panthers in this year's postseason tournament. But it certainly looks like the Panthers learned something from last year's playoff disappointment. Could another ice hockey title trophy be headed to the Sunshine State?"
Now, with May having handed off to June, both South Florida teams have advanced to their championships' final rounds. The Heat finally finished off the Boston Celtics and their choking stars on Monday night after letting the Celts sneak back into their Eastern Conference series.
And the Florida Panthers have been waiting for a while to see whom they would play in North America's professional ice hockey championships. (It's the Las Vegas Golden Knights, who advanced to their conference title, also on Monday night.)
You could have made a small fortune betting on these eighth-seeded South Florida playoff interlopers to advance to their league title series.
Caesars Sports chief NBA trader David Lieberman and lead NHL trader Thomas Foster talked with Fox Sports recently about the upstart Heat in the NBA Finals odds market and the surprising Panthers in the Stanley Cup Final odds market.
"All season long, nobody was betting on the Heat. They were probably one of our best results," Lieberman said. "As soon as they won the eighth seed, we started to see some action in the championship futures market because their price was still pretty high up there."
In fact, after a play-in loss to Atlanta, Miami odds were +25000 to win the title, meaning a $100 bet could net a $25,000 profit.
When the Panthers trailed Boston 3-1 in their opening playoff series and were facing the team that had earned more regular-season points than any other in NHL history, they were +15000 to lift the Stanley Cup. A $100 bet would produce a payout of $15,000 if the Panthers win the title.
Don't forget that this winter sports bonanza in the nation's winter playground in the sun is all part of what's been an incredible couple of months in South Florida. Both Boca Raton's Florida Atlantic Owls and the Miami Hurricanes reached the Final Four in the NCAA men's basketball tournament just two months ago.
"It's been a good time to be a South Florida sports fan," Lieberman said. "The last couple of months have been a magical run for that region."
Despite all the talk about our unsung heroes outperforming their odds, it's useful to recall that the Panthers won the NHL President's Trophy just last year. That means they had the most regular-season points. But they slouched through most of this season and everybody but the team and their most passionate fans forgot about last season's successes.
And the Heat are now appearing in their second NBA Finals series in the past four seasons. This terrific organization now will have played in the NBA finals six times during the past dozen seasons. Not exactly the pattern of underdogs, though they did barely scrape into the playoffs this year.
Since most Bahamians are more interested in the Heat, let's focus a little attention on this amazing team. Their coach Eric Spoelstra, whom LeBron James infamously tried to get fired after taking his talents to South Beach 13 years ago, is now just three wins from catching the recently-fired 76ers coach Doc Rivers for the fourth-most NBA playoff coaching wins in history.
And consider Caleb Martin, who nearly won the conference championship series MVP award after the Heat dispatched the Celtics. This undrafted and unheralded player who grew up in a trailer park in North Carolina just bagged 26 points and grabbed 10 rebounds on Monday. As the Athletic said, "this is the stuff of legends."
You can still make money betting on the Heat. They enter the finals as 3-1 underdogs. The Panthers are also betting underdogs, but by a much smaller margin.
The Heat travel to Denver to open their title series tonight. The Panthers begin their final series on Saturday. Enjoy.