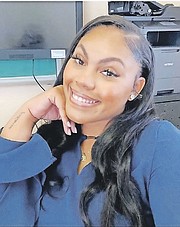 By LYNAIRE MUNNINGS
lmunnings@tribunemedia.net
A 27-YEAR-OLD school guidance counsellor died in a traffic accident on Queen's Highway, Eleuthera on Friday.
The victim is Chara Major who had recently relocated to Eleuthera in September.
Police reported that the incident occurred shortly before 5pm. The victim was travelling south on Queen's Highway, Eleuthera, in a charcoal grey Nissan Note, when she reportedly lost control of the vehicle and ran into a casuarina tree.
The vehicle was extensively damaged and Major, trapped inside, had to be extricated.
A local doctor visited the scene and pronounced the victim dead.
In an interview with this newspaper yesterday, DeLicia Taylor, the best friend of the deceased, described her as a "sweetheart" and "affectionate".
"She was someone who was always considerate of other people," the grieving friend said.
"You know, she was always loving. She was so strong minded, but she was still a sweetheart."
Friends for more than ten years, Ms Taylor told this newspaper the friendship was filled with timeless memories and growth.
Before her untimely death, the deceased was pursuing her master's degree at university.
Ms Taylor said since experiencing the initial disbelief of learning the news of Major's death, reality has not "set in yet".
"Reality hasn't set in as yet, but I know that when I have to stand there to do my friend's makeup that's not going to be easy," Ms Taylor said.
"It's nothing like when you know someone and know exactly what they want, but we never discuss 'oh when I die, this is what I want you know.'
"We never discussed that (death) because it was always a happy time, it was always a fun-loving time."
However, she wants Major's legacy to live on saying she was a phenomenal friend, counsellor, daughter, and colleague.
Education Minister Glenys Hanna Martin, along with scores of colleagues, family, and friends took to social media to express their condolences.
"It is with profound sadness that we have learned of the death of one of our guidance counsellors, Ms Chara Major, in a traffic accident in Eleuthera last evening (Friday)," said Ms Hanna Martin.
"This is a tragic and tremendous loss to the nation."
She continued: "I extend to her family on behalf of the entire team in the Ministry of Education our heartfelt condolences. We pray God's strength on her loved ones during this difficult and painful time."
Police are appealing to members of the public to adhere to the rules and regulations of the Road Traffic Act.
Chief Superintendent David Lockhart of the Royal Bahamas Police Force Traffic Division said this brings the country's traffic fatality numbers to four for the year.