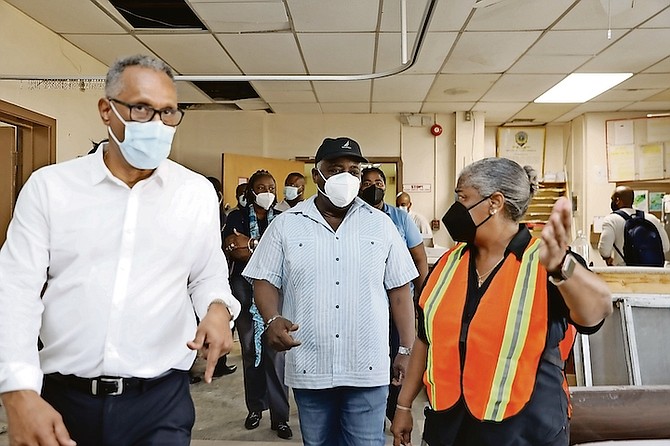 By EARYEL BOWLEG
Tribune Staff Reporter
ebowleg@tribunemedia.net
PRIME Minister Philip Davis admitted Princess Margaret Hospital is in a state of "crisis" after a tour of the public health facility on Saturday.
Mr Davis along with Health and Wellness Minister Dr Michael Darville, Public Hospitals Authority managing director Dr Aubynette Rolle and other officials toured wards, in particular those that are under renovation.
Speaking to the media afterwards, Mr Davis acknowledged the state of PMH and the government's commitment to addressing it.
"A government has (the) responsibility of ensuring that its citizens have access to public health services in a manner that is dignified, and in surroundings and facilities that accord to best practices. The challenges we see, or we saw this morning, is not new.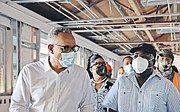 "You would have heard during the tour yourselves how long many of the departments and units of the hospital had been in a state of disrepair and not being used.
 "So what we see here is not challenges, but truly crisis, and I indicated then that we had a health crisis and part of that crisis is exacerbated by the COVID pandemic, which exposed the infrastructural challenges in crisis we had that require immediate attention - we have the responsibility of providing those services. We see patients in corridors on gurneys. We see the tight spaces in which the nurses and doctors are operating and it just heightens the urgency of now that we do what we need to do and do it very swiftly and quickly."
 He added: "We were hearing about it. We were seeing the news about it, but to come and walk and experience it is truly heart wrenching to see what we have today but we will fix it — we are fixing it. Hence, we trust that you will see what we're up against and as an aside I said I see why you brought me because you'll need money but we will do what we have to, because I take a very serious view."
 He told PMH officials that they have his support in getting the health crisis fixed.
 For her part, Dr Rolle also conceded the hospital was in a crisis, adding that action is needed.
 "I'd like to continue what the prime minister stated and I would term this as crisis - it's crisis. So it's at a point to where we really need to action and that's exactly what we're doing now because a few of the things that we're dealing with now in terms of infrastructural have been there for a while but we have we failed to just move forward and have them done but it's just one level of pandemic after the other. So right now you see it happening with another level of pandemic, which is the sick population."
 There have been complaints for years about a lack of adequate bed space and poor infrastructure at PMH. People have also complained about long wait times to be seen and alleged negligence.
 In December an agreement to allow for the transfer of PMH patients to Doctors Hospital West to facilitate much needed repairs at PMH was announced. It was previously reported that the hospital renovations would take place for approximately 14 weeks.
 PHA's managing director said there were around 356 patients in the hospital on Saturday but officials have had up to 424 patients at one point.
 "Not all of those patients being in physical beds on the ward, but really being in that virtual space and that is where the levels of concerns are because that is really in the corridor, in emergency room, in the chapels, sitting in chairs because that is what we're seeing," Dr Rolle said.
 "Doctors Hospital is taking our patients under our contractual agreement, however they have to be more stabilised patients. As I expressed previously, what we are now seeing is unstable patients that really have to remain here for closer observation. So our census is down to Doctors Hospital - we've been up to about 41.
 "Of course, as with every patient, there's a discharge date. So we have 13 stable patients there now, we have about 13 boarders here now, and for admissions, we have 13 – We have 13 patients awaiting admission and so we just have to continually look. The number of patients fluctuates. It's very, very fluid, but we try to accommodate as much as possible all of the unstable patients."
 PMH had some 20 long-term boarders at one point, however, officials are working along with private sector groups and elderly homes to ensure that these people have places where they can live and open up critical bed space.
 Dr Darville also spoke more about the plans for the new hospitals in Grand Bahama and New Providence.
 He reported that the hospital for Grand Bahama that is being led by the Beck Group is in advanced stages.
 Furthermore, officials are now finalising the topographic studies and the geotechnical studies on the new piece of property that is now confirmed for the construction of that facility in Grand Bahama.
 "Our medical planners have clearly indicated on completion of that hospital we plan not to have two campuses. The hospital at Rand Memorial Hospital will go down to a secondary facility where we will provide geriatric care as well as psychiatric care and we have a very robust and decent operating theatre where we will do some same day surgeries."
 He reported that the feasibility study for the hospital in New Providence is completed.
 "That particular hospital based on the planners will be a specialty hospital focusing on maternity care, adolescents, paediatric care. There will be a reference lab. There will be a national morgue and there will be expanded diagnostic services. I will unveil to the press very shortly, our planned structure for that facility because it will be two phases. The first phase will be the specialty hospital and the second phase that we possibly will not get to in this term in office will be a second campus that would reflect the services that will happen here at the Princess Margaret Hospital."