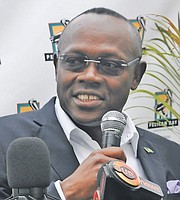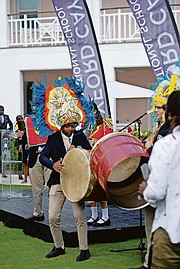 By LETRE SWEETING
lsweeting@tribunemedia.net
LYFORD Cay International School is looking to increase its more than 40 percent Bahamian student population through the implementation of ten new scholarships.
The scholarships of the Bahamian Leaders of Tomorrow programme at LCIS, available for Bahamian students of all primary and high school grade levels, will range from paying for 25 to 100 percent of the student's LCIS tuition. It will also offer leadership mentoring from various industry leaders.
Deputy Prime Minister Chester Cooper, who is also an LCIS parent, spoke on the significance of these new scholarships on Friday during an event for the school's 60th annual Founder's Day celebration.
"Over the many years at LCIS, the board and the founders and the many philanthropists associated with LCIS have done a tremendous job in attracting students from across The Bahamas who ordinarily would not be able to afford to come to LCIS," the Tourism, Aviation and Investments Minister said.
"This is going to be a magnificent opportunity for students across The Bahamas to get the education that's offered here at LCIS, this international school that is well-rated, not only in The Bahamas, but also in the Caribbean," he said.
"I hope that Family Island students will also feature prominently in the selection process for these scholarships. We hope that as a result of this scholarship that we will be able to find some diamonds in the Family Islands, in the inner-cities, in some of the areas across the islands of The Bahamas who can benefit from the education at LCIS, that they wouldn't ordinarily be able to afford," Mr Cooper said.
LCIS principal David Mindorff said the scholarship programme is aimed at emerging student leaders, with strong academics, strong leadership potential, who have active co-curriculars and talents that can be honed.
"So for the very first time we have implemented a block of ten scholarships, normally we have quite a long tradition of students who attend the school on scholarship, but it has usually been a little more limited. So through various strategies the (school) board has come up with, we now can expand the number of students that we can offer this education for," Mr Mindorff said.
"The Bahamian Leaders of Tomorrow scholarship is exclusively for Bahamians. What's new this year is that we're open to younger students, typically we've left scholarships for older students," he said.
Within this 2022-2023 school year, LCIS has offered over $785,000 in scholarships to Bahamian families and over $1m in education assistance overall this year.