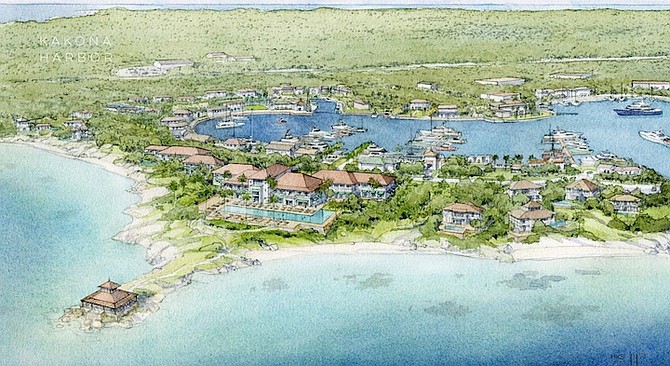 By LETRE SWEETING
lsweeting@tribunemedia.net
SOUTH Abaco residents have been told to get ready for the "hundreds of jobs and economic activity" that the proposed Kakona South Abaco Development will bring to the island, with airport redevelopments not far behind.
This is according to Tourism, Aviation and Investments Minister Chester Cooper who spoke about the $800m development and other items addressed in a town meeting in South Abaco last week.
"So, in our town meeting in South Abaco (on Thursday), we wanted the people of South Abaco to be ready for the hundreds of jobs, but more importantly the economic activity for entrepreneurs," Mr Cooper said on the sidelines of an event at Lyford Cay International School on Friday.
"This is going to cause a massive shift, if you will, in the way of life in this community. It's going to create an economic centre. Most people now travel to Marsh Harbour or go to the Abaco cays for work, this is going to cause there to be a development of housing and shopping and various essential services that's needed for this community," he said.
"Naturally, there are some concerns about infrastructure and roads. They want to ensure that they will have the type of healthcare and schools that can match the population that's going to come. All of these things are within our sights. We have negotiated with the developer to ensure they understand the socio-economic issues that come as a result of these developments," Mr Cooper said.
"It is important that we develop all of the islands of The Bahamas. We hope that as we move through the various communities, this will trigger the excitement that we saw in South Abaco, that this will cause a movement of residents back to build these islands with their own hands," he said.
Mr Cooper added that following the signing of a heads of agreement last month for the Kakona South Abaco Development, most of the approvals for the project are now completed, with construction set to begin shortly.
"Most of the approvals are completed. They are in the final stages of sign off for their environmental assessment. Once this is completed and reviewed by the Department of Environment, I expect that construction is going to start real soon," Mr Cooper said.
"The developers have already put $40 million in the ground and they've been working for years, they're very eager to begin for the people of South Abaco," he said.
Regarding plans for the re-development of Family Island airports, Mr Cooper said: "As it relates to the airports, we're going to have a request for proposals (RFP) come out in the next 14 days. "This is going to trigger the redevelopments of these airports.
"(At the town meeting in South Abaco on Thursday) we had our director of aviation talking about the airports in Sandy Point, where there will be a PPP (public private partnership), in Treasure Cay and in Marsh Harbour," he said.
"We hope that when we redevelop the Marsh Harbour airport, Treasure Cay and Sandy Point will be a part of that as well. There's some work to be done after Hurricane Dorian, we're going to have to move the tower and we're going to have to do some other remedial work in Marsh Harbour," Mr Cooper said.
"We're going to return to North Abaco, there are many other developments in Abaco and we want the community and the residents of these islands to be prepared, getting into business in advance, preparing their family and their children who may have moved abroad, to let them know the opportunities are coming so that they can return home," he said.
Mr Cooper added that there are many other Family Island airports that are going to be developed around the same time as well.
"We are breaking ground at Grand Bahama before the end of March, so that's going to be the first one out the gate, and hopefully shortly thereafter we will see North Eleuthera and then we will see the airports in Abaco, in that order. That's what we anticipate will happen," he said.
"The point we make to the citizens across The Bahamas is that while we attract these investments and they're good for The Bahamas, we're not doing them for the development itself, we're doing them for the benefit of the Bahamian people," Mr Cooper said.