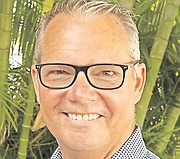 By NEIL HARTNELL
Tribune Business Editor
nhartnell@tribunemedia.net
Nassau Cruise Port yesterday disclosed it is aiming to slash annual debt servicing costs by several million dollars through refinancing the $138m bond debt that kickstarted its transformation at COVID's peak.
Michael Maura, its chief executive, told Tribune Business that the Prince George Wharf operator is seeking "realign the cost of capital with the level of risk" now that the $300m redevelopment of its facilities is nearing construction completion.
Voicing optimism that most, if not all, investors will elect to rollover their bonds and exchange them for new securities, he added that the reduced risk associated with the project was now "materially less" than when the initial offering was placed in May 2022 at the pandemic's height.
Now, with the cruise industry returning at volumes higher than 2019's pre-COVID record, Mr Maura told this newspaper that Nassau Cruise Port is justified in seeking to refinance at lower - albeit "competitive" - interest rates for investors. Declining to give specifics, he indicated that the cruise port operator is seeking to slash its bond interest coupon by a few percentage points to cut annual debt servicing costs.
The Nassau Cruise Port chief justified the move by pointing to multiple indicators of the project's improved risk profile, including projections that total cruise passenger arrivals for 2023 will exceed four million and beat 2019's pre-COVID record of 3.85m. This, in turn, will produce increased income for the port operator, whose revenues are driven by the volume-based passenger and port facility charges that, combined, are increasing due to inflation.
"The quick answer is that we're looking to refinance just in order to get the benefit of the fact that our project is nearing completion," Mr Maura disclosed. "Generally, the risk level of the project, and of the port, is much less today given that we're on the backside of the pandemic. 
"At the time we went into that debt raise in May 2020, the industry had shut down and money cost us 8 percent [interest]. We did over 3.3m passengers in 2022, a portion of which was in and during the pandemic. Our 2022 fourth quarter exceeded the 2019 fourth quarter, so clearly the industry is on the rebound. 
"The six berth we've constructed has already yielded us great results in the form of over 26,000 passengers on a given day. We've had several days with over 25,000 passengers. That indicates that pier is paying for itself, and in four months we will begin the process of opening the upland areas and generating landlord income and ancillary fees incidental to the port and passenger facility charges," he continued.
"We just felt the timing was right. There's a lot of good news out there about our project. The risk levels today are far less than they were in May 2020. We're just looking to realign the cost of capital with the risk level." Mr Maura spoke after Nassau Cruise Port confirmed it will redeem the bond debt, split into a $102.16m Bahamian dollar tranche and $32.24m of US dollar financing, on April 30, 2023.
Asked how optimistic he is on the likelihood existing investors will seek to rollover, he added: "I think we're confident. The fact we're doing the refinance tells you we're confident. If we felt there was a material risk we would not be able to rollover the debt at a lower rate we would not be doing it.
"Our expectation is that we would be able to roll this over. We hope and expect they will have confidence in this project to reinvest their money at a lower but competitive rate. The risk today is materially less than the risk in May 2020. This project has already demonstrated the strong demand the cruise industry has for The Bahamas, for Nassau. Our confirmed bookings for 2023 are over four million passengers, and confirmed bookings for 2024 are over 4.4m passengers.
"The future is very bright, and considering that 2019 at 3.85m passengers was a record for Nassau, we will beat that this year. That underlines the value proposition of Nassau Cruise Port, the wider Bahamas, and the confidence the industry has in our government and the operation of Nassau Cruise Port and the future that New Providence offers to the tourism sector."
Mr Maura said CFAL, which led the original 2020 bond offering, is again leading the refinancing this time around. An offering memorandum, detailing Nassau Cruise Port's progress and revised financial projections, is now being finalised for presentation to existing bond holders and the wider capital markets.
Meanwhile, the Nassau Cruise Port chief confirmed that the port's main revenue earners are increasing in line with inflation. The port and passenger facility charge, which were a combined $8.50 in mid-November 2019, have been adjusted upwards to just over $9 for 2023.
"Those are our principal charges, and charges that are going to drive 90 percent of our revenues at Nassau Cruise Port," Mr Maura said. "Those charges go up by the US Consumer Price Index each year, and in 2023 those charges went up by 6.8 percent. The 6.8 percent was a figure provided to Nassau Cruise Port by the Ministry of Finance.
"Not only did they authorise us to increase the passenger and port facility charge by 6.8 percent, but Nassau Cruise Port will pay the Government 6.8 percent more on 2023 on the lease. We also received notice from the Ministry of Finance in December 2022 that the US consumer price index increase for January 2024 will be 7.1 percent. 
"The Ministry of Finance gives one year's notice. In effect, there's a one-year lag that's intended to allow us to give the cruise industry a year's notice of the increase so they can adjust their pricing to their consumers in sufficient time."