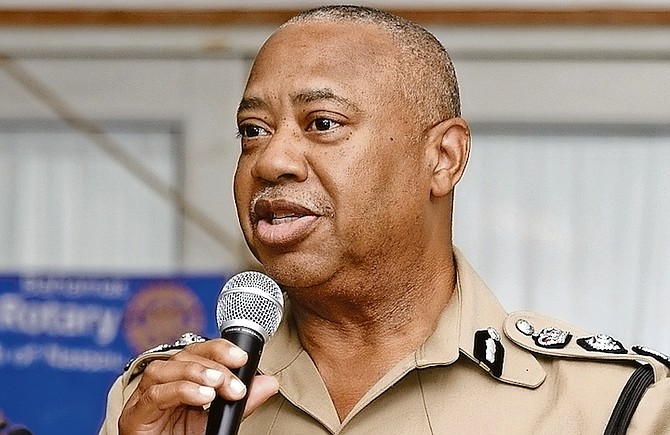 By LEANDRA ROLLE
Tribune Staff Reporter
lrolle@tribunemedia.net
POLICE Commissioner Clayton Fernander revealed on Friday that crimes against the person increased by 23 percent last year when compared to the same period in 2021, including murders, armed robberies and sex crimes that also trended upwards.
Despite an uptick in these offences, he said serious crimes and crimes against the property decreased by two percent and nine percent respectively.
The police chief unveiled the latest crime statistics during a press conference at the Paul Farquharson Conference Centre. He said data showed that murder increased by eight percent in 2022 which saw a total of 128 incidents recorded. During the same period in 2021, police recorded 119 murders.
New Providence recorded the most homicides followed by Grand Bahama.
"Out of that 128 murders, detectives with a combined team effort across the board with uniform officers, we were able to charge and solve 86 of those matters out of the 128 which represents a solvency rate of 69 percent," Commissioner Fernander added.
He said police investigations found that 35 suspects had killed someone while out on bail.
Another 34 alleged offenders, he added, were also murdered while on release.
Meanwhile, armed robberies jumped by 34 percent last year, with firearms continuing to be the weapon of choice for criminals. There were 555 of these incidents recorded in 2022 when compared to 415 reported in the year before.
Robberies and shop breakings also saw increases, while housebreaking incidents declined.
Police reported that there were 124 robberies recorded last year versus 96 in 2021.
For shop breaking, there were 524 incidents in 2022 compared to 495 in 2021.
Moving to illegal firearms, Commissioner Fernander said 370 illegal weapons were retrieved in 2022 compared to 277 in 2021.
"We had 280 pistols and we see an uptick with the high-powered rifle which are being used in most of the murders. We see a trend of high-powered rifle. A total of 38 and you had 30 shotguns which brings the total to 370 as I mentioned," he continued.
The police chief also noted a recent incident where a 15-year-old was found in possession of a high-powered rifle, which he showed to reporters on Friday.
He said the young boy had an altercation with another student and left the campus and returned with the firearm.
The commissioner said thankfully, the student was not there when he returned as there could have been a mass shooting on the school's premises.
"There was an off-duty police officer who followed that individual and not being armed. . .what if the officer was harmed and engaged that youngster who would've maybe opened fire," he said.
"There may have been a shoot-out, who knows? But the young man was charged and put before the court—a 15-year-old. I didn't leave that just like that. I instructed the commander of CID to reach out to Social Services so that they could do an investigation at the home of this young man."
With respect to sex crimes, there was a 14 percent overall increase, with 204 cases reported.
The year before saw 179 incidents.
Specifically, for rape, there were 55 incidents reported, representing a 15 percent increase over 2021.
Eight of the victims were tourists, while 39 percent of the victims knew the assailant.
Additionally, police reported that there were 139 unlawful sexual intercourse cases - an 11 percent increase over 2021 numbers.
Commissioner Fernander called the sex crime numbers alarming during Friday's press conference and pleaded with parents to keep a close eye on their children.
"The unlawful sexual intercourse (victims) are young ladies under the age of 16. We want to send a message to the parents – please try to monitor your children on social media. Watch their habits on social media.
"I want to send a strong message to the men out there who continue to prey on our little darlings, our young people, to stop now because if you don't, we will find you and you will be prosecuted to the full extent of the law."
Last year, police investigated 144 missing person cases; 67 of them have been solved, while 77 cases remain under investigation, police reported.
Commissioner Fernander also reported increases in traffic fatalities, with 59 incidents reported last year.
This represented an 11 percent increase over 2021, he added, noting that speed played a factor in many of the incidents.
He cited other causes like the use of cellphones, not wearing seatbelts and drivers falling asleep.
"Traffic fatalities decreased in all Family Islands with the exception of Eleuthera where it (increased) to seven in 2022 from one in 2021. That is a concern for us as well. The Family Islands, especially Eleuthera and Abaco.
"As a result of that, we have partnered with the Ministry of Transport where we conducted a town hall meeting in Eleuthera just last week relative to road safety and that went off well and this will continue throughout the family of islands."
Police seized 1,137 pounds of cocaine and 9,659 pounds of marijuana last year while 1,336 people were arrested and charged for drug related matters.