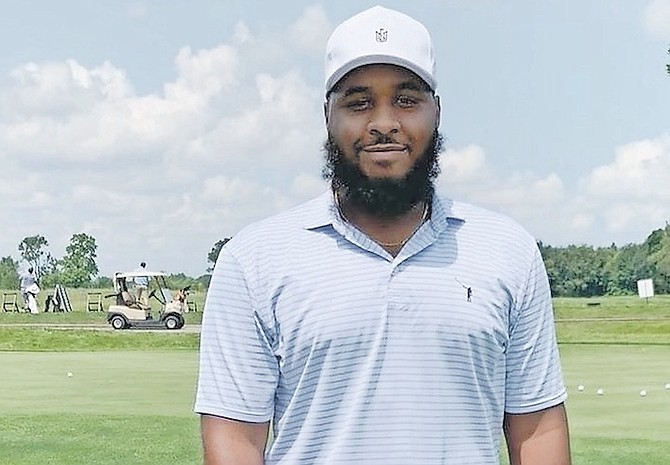 By BRENT STUBBS
Senior Sports Reporter
bstubbs@tribunemedia.net
IT wasn't the performance he anticipated, but Cameron Riley said he was thrilled to have been afforded the opportunity to participate in his first Korn Ferry tournament.
In the last of the two tournaments played in The Bahamas, Riley failed to make the cut in the Great Abaco Classic that was played this week at the Abaco Club in Abaco.
"It was a great experience at the Abaco Golf Club," Riley said. "I'm really thankful to the Bahamas Professional, Golf Association, bdGlobal Sports and the Korn Ferry Tour for bringing on such a great event and for having me participate in the event.
"It was an eye opener for me, seeing that level of competition and seeing the weakness of my game. I came back the second day and turned in a respectful round, but the first day really threw me off course."
Despite his results, Riley said he enjoyed himself and he will definitely be back for another shot at it when the tour returns to The Bahamas in 2024.
The Great Abaco Classic followed the Great Exuma Classic that kicked off the Korn Ferry's 2023 Tour at the Sandals Emerald Bay Golf Course where Devaughn Robinson also missed the cut.
The 23-year-old Riley, using his long-time Florida A&M Rattler team-mate and close college friend Mahindra Lutchman as his caddie, said he just has to believe in his ability to play at this level of competition.
"Even though they might have more resources and access to certain places and things to get better, just knowing that my game is on the same level as their own, the only thing missing was a little more experience, was just a confidence booster for me.
"It showed that I can go out there and compete with these guys as well. I know I have been putting in the work and doing the right things, so in due time, I know everything will fall into place. I just have to keep grinding and keep my head up and trust in God, who put me in this position in the first place."
Acknowledging that he knows "Rome wasn't built in a day", Riley said it will take some time for him to get to the level of the top competitors in the tournament, but as long as he stays committed and dedicated, he feels he can do it.
Looking back at his performance in the tournament, Riley said he knew exactly what went wrong.
"My driver got me in trouble this week," he pointed out. "Each time I was hitting it, I wasn't hitting it as normally do. I hit a lot of trees and hazards. I just needed to correct that because the other parts of my game were solid.
"No one's ever perfect and you can't ever be perfect in the game of golf, but a lot of my strength is my driver. I usually hit it far and straight, but a lot of shots went far, but they were not straight."
As long as he can stay consistent, which he feels will come with a little more experience, Riley said he will be a force to reckon with.
"That's what I need to work on." he proclaimed. "That driver got me in a lot of trouble."
Riley will go back to the drawing board and prepare for his next tournament on the APG Tour season where he will be heading to Palm Strings, Florida in the middle in February. He might play in another tournament at the beginning of February.
"In golf, it's hard to have a set schedule because some events take precedence over others and so it takes some adjustments," he said. "I think I will mostly play the first APG Tournament and then play a number of tournaments on the schedule that will run through to November.
"Whatever opportunity comes in between, I will take advantage of it. So, I'm excited about it. I'm looking forward to it."
While this was Riley's first time playing in the Korn Ferry Tour, this is his second year on the APG Tour.
"I played very well last year," Riley said.
"I placed 15th on the points list, so I played pretty well on that, but the Korn Ferry is a step up from there and so I have some work to do there, but I'm very comfortable playing on the APG Tour."
Having been treated like royalty, Riley said he's still flabbergasted about the Korn Ferry Tour, which he felt was the best event he's participated in so far.
"It was just such as great honour to represent my country, The Bahamas, at the tournament too," he summed up.
Riley also got a chance to team up with about four players on the tour as they hosted a golf clinic for residents of Exuma on Saturday.
"Seeing the light bulb go off in their heads, showed that there's a lot of potential for the game in the future," he said.
"I went to the beach that night and I saw some of the kids practicing their swing. That just made me so excited to see what the future holds for The Bahamas.
"It was a heartwarming experience for me.
"I loved every moment of it."
No doubt, he only wished his scores were much better than they were.
Riley, coming of his collegiate experience two years ago, helped FAMU to some of its best results as they captured their first MEAC championship in school history and surged into the NCAA Regionals in 2021. Riley won the BCGCA HBCU Invitational with rounds of 69-69 to finish -4.
He finished fourth in the APGA Collegiate Ranking as one of four Rattlers in the top five, earning entry into Advocates Pro Golf Association (APGA) events this summer and to the Korn Ferry Qualifying Tournament that fall.