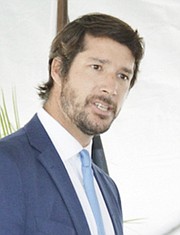 • Pledges 'ambitious masterplan for change' in Freeport
• Billion-dollar proposal in 'to create thousands of jobs'
• Backs PM on city's 'desperate need for transformation'
By NEIL HARTNELL
Tribune Business Editor
nhartnell@tribunemedia.net
A Hayward family member yesterday pledged "an ambitious masterplan for change" to create "thousand of jobs" in Freeport as he backed efforts "to reimagine and revolutionise" the Grand Bahama Port Authority (GBPA).
Rupert Hayward, grandson of former GBPA co-chair, Sir Jack Hayward, in a statement responding to Tribune Business inquiries said he agreed with the Prime Minister that Grand Bahama is "in desperate need of progressive and transformational change".
Speaking after this newspaper revealed revealed the Government is exploring its options over how to bring about Freeport's revival through what some believe could be the greatest transformation in the city's management since its founding treaty, the Hawksbill Creek Agreement, was signed in 1955, he indicated that the Hayward family intend to play a central role in this by acting as a Bahamian partner for "blue chip" foreign investors.
While providing no specifics, Mr Hayward told this newspaper he has already submitted "a new partnership" proposal that "can attract billions of dollars in investment [and] create thousands of jobs" for Freeport and the wider Grand Bahama to the Davis administration.
The Government is presently examining whether change at the GBPA is best achieved through either a private buyer acquiring the Hayward and St George families' ownership interests, the Government doing itself or the regulatory and quasi-governmental powers being devolved back to Nassau.
Mr Hayward's statement indicated he is seeking to restructure the GBPA and its relationship with the Government such that the latter has more say over Freeport's running and future through "a true Public-Private Partnership" that represents the interests of all parties including city residents and GBPA licensees.
"The Prime Minister in the most part is absolutely correct. Grand Bahama is in desperate need of progressive and transformational change. I want to thank Prime Minister Davis for having the vision and initiative to drive this process, which I support," Mr Hayward told Tribune Business.
"A new vision for the island can only come about through collaboration with, and investment from, top international partners that have deep experience in cutting-edge sustainable development projects, and which can bring global strategic relationships, a balance sheet and masterplan necessary to create an equitable, sustainable and prosperous future for the island and the country that will exceed all expectations.
"Such a plan will also require a strong local partner with the local knowledge and international expertise that will be invaluable to any international blue-chip investor that is serious about taking on such an ambitious challenge. The Haywards provide this."
Signalling that he and his family intend to remain fully involved in Freeport, whether through the GBPA or outside, Mr Hayward did not identify the "blue chip investor" or "international partners" he was referring to. However, he has been heavily involved with the multi-party deal to develop a Six Senses resort at the 30-acre Barbary Beach site previously owned by Marriott.
That agreement features Weller Development, which is spearheading the largest US urban regeneration in Baltimore via the 235-acre Port Covington site, and Pegasus Capital Advisors, the $10.6bn private equity group focused on investing in sustainable projects and the only such group accredited as a fund manager by the Green Climate Fund. Multiple Freeport-based sources have previously suggested this partnership could lead to bigger things beyond Six Senses.
"I believe the transformation of Freeport and Grand Bahama, created by a new partnership already proposed to government, is an opportunity that can attract billions of dollars in investment, create thousands of jobs and deliver the expertise and infrastructure for The Bahamas to build a truly climate-resilient future. More on this exciting development to come," Mr Hayward said yesterday, while providing no names.
"As Bahamians and long-term stakeholders in Grand Bahama, the Haywards also want to see substantive change. Since being re-included as beneficial owners of the GBPA in 2020, we have brought investment that led to the $250m Six Senses luxury resort; $30M flagship Doctors Hospital facility; Blue Action Lab that is fundamental in developing the blue and green economies, and training Bahamians for careers in a climate resilient future; the internationally renowned, Earthshot Prize-winning reef restoration program Coral Vita, to name just a few.  More are in the pipeline including an ambitious masterplan for change that we hope to be able to announce soon, which will have significant positive impacts for Grand Bahamians at every level. 
"We want to form a deep partnership with the Government to reimagine and revolutionise the GBPA so that it is once again a true public-private partnership and a world-class organisation that represents the interests of all stakeholders and that Grand Bahamians and, indeed, all Bahamians can be proud of."
The Prime Minister, on Monday, issued a prepared statement issued through his spokesperson in response to Tribune Business inquiries concerning the Government's efforts to effect ownership and leadership changes at the GBPA. 
"Grand Bahama over the many years has failed to live up to its true promise and potential. And we are are in discussions with the Port Authority for the purposes of identifying a path towards putting Grand Bahama on the right track to enable it to fulfill its full potential and promise," Mr Davis said. 
Multiple Tribune Business sources, speaking on condition of anonymity, confirmed that the Prime Minister and his administration last year effectively gave the Hayward and St George families an ultimatum to either find a private buyer for their GBPA ownership interests (split 50 percent each) or the Government would find one for them.
Philip Davis KC and his advisers are understood to have become convinced that drastic change is needed to break the status quo and revive Freeport after a near two-decade decline, given that it is potentially the best source of higher economic growth for The Bahamas due to its available land, location and tax-free zone status.
However, this newspaper understands that, while moderating its stance somewhat since the ultimatum, the Government has not given upon on its Freeport ambitions. There is talk that the Government itself may now seek to acquire the GBPA or, more likely due to the Public Treasury's cash-strapped state, seek to gain control of Freeport's regulatory and quasi-governmental functions.
The GBPA, while described by some as a 'regulatory shell', still possesses considerable powers that include business licensing, building code and environmental enforcement, city management, and the power to levy fees and service charges together with the operation of a free trade zone that offers multiple forms of tax relief to investors.
However, its income-earning assets have been transferred to Port Group Ltd. These include the 50 percent equity stakes in DevCO and the Freeport Harbour Company, likely to be the two families' most valuable assets, together with interests in multiple other companies such as Freeport Commercial & Industrial, another major landowner.
Should the Government seek to take over the GBPA's regulatory powers, one source said it would amount to an "abrogation" of the Hawksbill Creek Agreement and raise multiple legal issues that would have to be addressed. Among these, they added, would be the provision that requires four-fifths (80 percent) of licensees to approve the devolution of quasi-governmental authority to a local government-type entity.