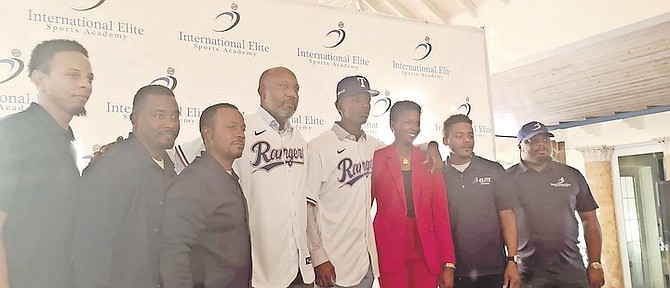 By BRENT STUBBS
Senior Sports Reporter
bstubbs@tribunemedia.net
WHILE he didn't get to play professional basketball, Jeff Walcott was happy to see his son Sebastian Walcott's dream of playing professional baseball come true.
Walcott, one of the former outstanding local basketball players turned baseball coach, watched as Sebastian signed his name on his pro contract with the Texans Rangers during the first of the four deals acquired by the International Elite Sports Academy.
"It's an exciting time for us," Walcott said. "He's going to the Dominican Republic for about three, but as a family, we're elated. It's four or five years in the making, but we're so happy to finally get this deal with the Texan Rangers."
Even though they watched their son progress from he started playing T-ball at the Junior Baseball League of Nassau, Walcott said it wasn't until he started playing in the 12-and-under division that they started to take notice of his future.
"My wife and I never really wanted the pro route. We always believed that education should come first," said Walcott, of his wife Yael. "But then when he started to develop, we saw that he had a chance and so we decided to take the chance."
Now that he's fulfilling the dream of playing pro ball, the elder Walcott instructed his son to keep his head high, stay focussed and commit to the sport that he says he loves.
"We will be watching him, we will be encouraging him, and we will provide the support for him," he said. "But we want him to continue to love the game and once he does that, he will continue to have success."
Sixteen-year-old Walcott, who plays shortstop and third base, said he was ecstatic when the deal came through for him.
"I saw it as a new opportunity to become a major leaguer, which was my ultimate goal," he said. "When I realised that I can now have an opportunity to become a Hall of Famer, I'm even more encouraged to push my career."
While his first stop will be in the Dominican Republic, Walcott said he's looking forward to heading to the Arizona Spring training camp where he will be able to perform to determine where he will end up playing.
"They are expecting a lot from me. They expect for me to be a leader and to be on top of my game," he said. "I expect the same or myself because this is what I wanted to do all along."
To the younger players still left in the academy, Walcott encouraged them to "continue to work hard and put your mind to it". He said anything is possible, if they believe they can achieve it.
"At 16 years old, for me to get this pro contact, I'm just happy," Walcott said. "I just want to go there, have some fun and enjoy the game."
Walcott said he is also happy with the other three players who were able to sign their contacts out of I-Elite. He noted that they all went through the process over the years and now they are heading off to fulfill their dreams.
One of I-Elite's coaches, Albert Cartwright, called Walcott a real "special" player.
"He's one of them that comes around every so often," he said. "I've been watching him for so many years and I always felt that he will be a kid to reckon with.
"He's definitely put in the work to be a priority with these guys in the organisation, so it's going to be fun to watch him continue to grow as he does some special things."
Another I-Elite coach, Geron Sands, feels that Walcott will become one of the best players to come out of the I-Elite programme.
"Over the years, what he has done from a 12-year-old to a 16-year-old is tough to beat in comparison to the other guys," Sands said. "We have had many greats who played this sport, but I believe that he will be one of the greats, not just from The Bahamas, but the entire world."