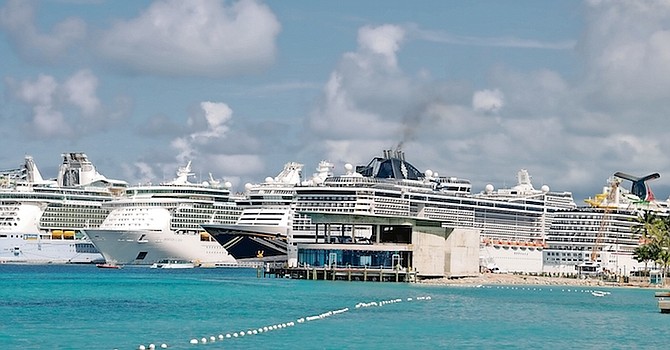 • Nassau among controlling shareholder's lowest at 55%
• Top executive confident of boost when port 'in full swing'
• First-half revenues up seven-fold after cruise 'hibernation'
By NEIL HARTNELL
Tribune Business Editor
nhartnell@tribunemedia.net
Nassau Cruise Port's chief executive is optimistic that its "super yacht destination" ambitions and full opening will significantly improve operating income margins that are currently among its parent's lowest.
Michael Maura told Tribune Business he was confident that once Prince George Wharf's $300m transformation is "in full swing", and all commercial amenities become operational, new and increased revenue streams will flow to the bottom line and drive improved profit margins.
Speaking after it emerged that Nassau Cruise Port's operating income margins are among the lowest of all ports operated by its controlling shareholder, some 34 percentage points below Global Ports Holding's top performer, he explained that its earnings are currently limited to just two levies ahead of the May 27, 2023, official opening.
"At the moment all we have to charge is essentially the passenger facility charge and port facility charge which are, and forever will be, the most substantial charges that Nassau Cruise Port will levy," Mr Maura told this newspaper.
"In a year's time, when we are fully commercially operational, with all the tenants, retailers and restaurants, water taxis operational and marine ferry up in full swing, and we have established ourselves as a super yacht destination, all that will contribute directly to our bottom line and inevitably infuse our EBITDA (earnings before interest, taxation, depreciation and amortisation) margins. We are already carrying the cost of those assets that will provide us with a return."
Global Ports Holding, which owns 49 percent of Nassau Cruise Port, revealed in recently-published results for the 2023 financial year's first half that its Bahamian asset's operating margins rank among the lowest in its port collection. Nassau stands at 55 percent, with only Antigua faring worse, while other ports operated by Global Ports Holding generated margins of between 63 percent and 89 percent for the six months to end-September 2022.
However, the figures also disclosed that Nassau is the company's top port for generating cruise revenue. Adjusted cruise revenues for the half-year to end-September 2022 jumped almost seven-fold year-over-year, rising from $2.2m during the same period in 2021 to $14m last year.
Nassau Cruise Port produced $9.9m in operating income (EBITDA) for the 2022 half-year, as opposed to a $0.6m loss during the prior year period, with the latter producing a -27 percent operating margin. Prince George Wharf, as well as its parent, were up against extraordinarily weak comparatives from 2021 as the cruise industry only started to resume sailing in June/July that year.
Mr Maura, describing the cruise industry as "like a hibernating bear that just woke up", told Tribune Business: "The industry is in full recovery. Nassau is clearly leading the pack. Based on the information I've been reading, a lot of people compare Nassau to Cozumel. Cozumel has three port islands, Nassau has one, and one port has outperformed Cozumel in 2022."
He conceded, though, that "the trick is" to get more passengers off their respective ships when docked in Nassau and to increase per capita spending that is spread across multiple Bahamian businesses. Asserting that the cruise port is "really coming to life" as its $300m transformation progresses towards a closing, Mr Maura said: "Every day we have Bahamians come down to the waterfront and they're in shock.
"They may have read about it, seen it on TV, but when they came to the waterfront and see it for themselves.... You can see how these visitors from all over the US, Canada and the world will be arriving in Nassau and saying: 'How did this happen?' if they are coming here for the first time or have not been here for two years."
Global Ports Holding, in its first-half financials, said the pace of capital investment spending at Nassau Cruise Port accelerated during the six months to end-September 2022 compared to the prior year. "Capital expenditure during the six months to September 30, 2022, was $43.9m, including the impact of advances, with this expenditure primarily focused on our continued commitments to invest in Nassau Cruise Port.
"We invested $53.9m in the port infrastructure at Nassau during the reporting period compared with $46.6m in the 2022 first half. The marine works are now complete, and the work on the landside works, including an iconic new cruise terminal, is well underway."
Mr Maura, meanwhile, told Tribune Business: "Nassau Cruise Port's 2022 story includes much more than the welcomed cruise industry recovery. Last year witnessed the continued transformation of Prince George Wharf and immediate downtown Nassau waterfront. A new ICON/EXCEL capable cruise berth, 'berth six', was completed, paving the way for Nassau regularly receiving six ships in a day.
"The dredge material resulting from the 'berth six' construction was used to expand and improve the downtown Nassau waterfront in preparation for over 60 new authentic Bahamian retail, art and food and beverage offerings, and a new entertainment venue featuring local and international musicians and performers.
"As at year's end, the marine works are 99 percent complete and the ongoing upland works approximately 70 percent, with the cruise port and downtown Nassau waterfront grand opening scheduled for May 27, 2023."
And Global Ports Holding concluded: "Nassau Cruise Port has performed particularly strongly, benefiting from its proximity to the key home ports in Florida and the cruise lines' continued desire to operate more short cruises in this area at the expense of longer itineraries to other parts of the Caribbean. The port is, on some days, hosting six cruise ships simultaneously, utilising the new berthing that has resulted from our significant investment into this port.
"Our investment into Nassau Cruise Port continued during the period and is currently expected to be completed by summer 2023. This project has remained largely on track and on budget despite the significant impact of the COVID pandemic on the cruise industry and global supply chains. We are very excited that we will shortly be able to welcome cruise passengers to one of the world's most iconic cruise port destinations."