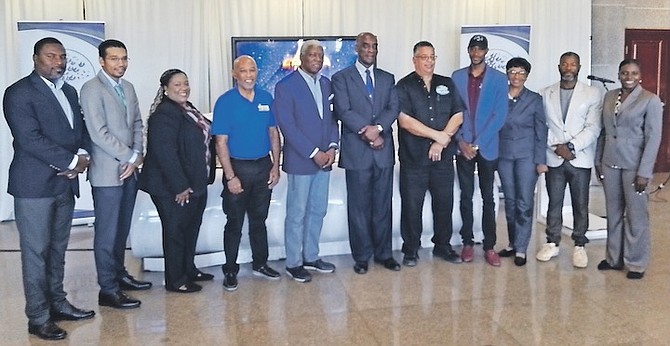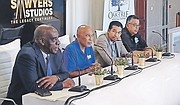 By BRENT STUBBS
Senior Sports Reporter
bstubbs@tribunemedia.net
A GROUP from the stock exchange and small businesses, including Sawyers Studios, Arawak X and Tropical Gyros, stepped forth on Wednesday to pledge their sponsorship of the 50th Carifta Games.
Also making a special presentation to pledge his support of the games, scheduled for April 7-11 at the Thomas A. Robinson National Stadium, was Comedian Jaquay 'DasQuay' Adderley.
Adderley, known for his many acting roles in local commercials and movies, said it's his goal to inspire more young Bahamians to make their presence felt because he believes that if he can do it, they can do it as well.
Carifta chairman Harrison Thompson welcomed all of the new partners.
"In every country, for that country to develop, you need small businesses," Thompson said. "Small businesses are the engine that drives the economy of any country.
"So we are so pleased that some of our small businesses in The Bahamas have decided to join hands with the Local Organising Committee (LOC) to ensure that we have the best junior games in the world, the Carifta Games right here in The Bahamas."
Darcy Rahming, the Chief Executive Officer of Arawak X Stock, said their company is happy to be a part of this sporting event that will change the lives of so many Bahamians.
"There are very few things that all of us as a people come together for and this is one of those times," he said. "So, we're happy to be a part of these celebrations as we hope to make this the best games ever."
Rahming, one of the country's top judokas, said as of next week, they will unveil their social media platforms that persons can access to follow their contributions to the games, whether it's big or small.
Tropical Gyro, a local restaurant that provides an array of Bahamian and Greek food, was first introduced to the Bahamas during the initial World Relays in 2015. Since then, Chief Clement Culmer said they became a staple on the market.
"I was quite disappointed when they cancelled the last World Relays, but when I heard that Carifta was coming here, I reached out to Fern (Hanna) and Lynden (Maycock) and told them that we have to be a part of the games," Culmer said.
As a sponsor, Culmer said they will not only be providing a cash donation, but they will also be working with the LOC in feeding some of the patrons during the games. However, he didn't elaborate on how it will be done as they are still working out the details.
Sawyers Studios, which was established in 1956 on East Street, was resumed by Charles Sawyer, who decided to re-introduce the popular photography store on Carmichael Road in 1990, in memory of his deceased father and founder, Andrew Sawyer.
Four years ago when he re-acquired the name, Sawyers Studio, Sawyer said he attached the logo: "The Legacy Continues" as he paid tribute to what his father started.
"In those days, if you didn't have a photo with the Sawyer Study gold label at the bottom, you weren't saying anything," Sawyer said. "So, it's something that I had to take on and carried on because my father did a phenomenal job with it."
As for track and field, growing up in Lewis Street, Sawyer said he remembered when they used to cordon off their area and hosted their own house sports between the Dukes and Pros. It's with that backdrop in mind that Sawyer said he was committed to being a part of the Carifta Games – and they will be providing special portraits for all persons interested.
"Always remember. Whatever you sow, you will reap," he said. "So, it's incumbent upon me to sow good seeds and good seeds will come back to you."
LOC chairman Lynden Maycock; Bahamas Association of Athletic Associations (BAAA) president Drumeco Archer and North American, Central American and Caribbean (NACAC) president Mike Sands all expressed their gratitude in the small businesses who stepped forth to offer their support of sponsorship of what they are expecting to be the greatest games ever held.
Pauline Davis-Thompson, the Dame of Carifta, said she too was thrilled to see the small businesses getting involved in the sponsorship of the games because they will help to provide an opportunity for some many of our athletes to experience what she did when she competed for The Bahamas.
Davis-Thompson was one of six Bahamians, who earned the Austin Sealy award as the Most Outstanding Athlete. She achieved her feat in 1984.
The others are this year's honourary "mother" of Carifta, Maryann Higgs- Clarke, who did it in 1978; Lavern Eve, back-to-back winner in 1982 and 1983; Debbie Ferguson-McKenzie in 1995; Anthonique Strachan, back-to-back in 2011 and 2012 and Shaunae Miller-Uibo, the last in 2012.