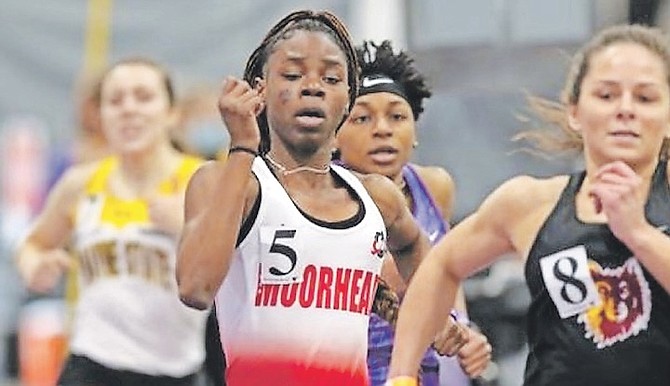 By BRENT STUBBS
Senior Sports Reporter
bstubbs@tribunemedia.net
ALTHOUGH she just started competing in the 400 metres when she joined the Dragons track team at Minnesota State University at Moorhead in Minnesota, Robynn Rolle- Curry has excelled as one of the top contenders in the USTFCCCA.
Dragons' team captain Rolle-Curry said she has to lead by example as she went on to break the MSUM school 400m record twice in two weeks.
Over the weekend at the SDSU D2 Invite in Brookings, North Dakota, Rolle-Curry ran 55.45 seconds for the fifth best time in the NCAA Division II this season.
The time erased the previous mark of 56.18 that she established at the Mike Thorson Open on January 14. Prior to that, the MSUM stood at 56.70 and was held by Kendra Mooberry.
Rolle-Curry, who has qualified for the NCAA Indoor Championships from March 10-11 in Virginia Beach, Virginia, said she's thrilled by her progression from the time she enrolled at MSUM up until now.
"My freshman and sophomore years were not really that good because I was still fresh, but now that I'm in my junior year, I'm more comfortable and confident in the work that I put in and the dedication and the effort that I made to get here.
"I've even trained before the summer before coming into the off season, so I didn't really expect it, but when I came, I expected that I was capable of doing what I did."
Rolle-Curry, a graduate of Kingsway Academy, said it shows that she's capable of "doing all things through Christ," – once an athlete puts in the hard work and dedication, they can achieve anything.
This is just the tip of the iceberg for Rolle-Curry, who has aspirations of being a force to reckon with at the NSIC Indoor Championships in Mankato, Minnesota from February 24-25 and the NCAA Indoor Championships in March before she prepares for the outdoor season that starts on April 1 at the Al Bortke Open in Bismarck, North Dakota.
"I plan to win at National indoors and outdoors and I hope that I can run at least 52 seconds," said Rolle-Curry, who also competes in the 200m. "I plan to put God first and just do my best as I trust my training.
The Dragons will be back in action this weekend as they compete in the UND Open in Grand Forks, North Dakota on Saturday when Rolle- Curry is expected to make her debut this year in the 200m where she's posted a lifetime best of 24.81.
Rolle-Curry, 20, competes on the Dragons' team, coached by Ryan Milner and assisted by Bahamian high jumper Trevor Barry. Other Bahamians on the team are freshman Shavantae Roberts, a female sprinter; senior male sprinter Kendrick Major, freshman male sprinter Elkan Johnson and Grand Bahamians Ty Dawkins and Shaquiel Higgs, both senior male sprinters; and Shyrone Kemp, a senior male high jumper.
"It's great to have some people around you who come from where you are from," said Rolle-Curry of the Bahamian connection at MSU. "It makes me more comfortable because it's nice to have people from the same background. When you are homesick, they help to pull you along."
Rolle-Curry, daughter of Sonovia Campbell and Ryan Rolle-Curry, expressed her gratitude to all of her family members, especially her great-grandfather Franklyn Campbell, and friends for their support.
"Without their support, I would not be able to accomplish what I've done so far," summed up Rolle-Curry, who is studying business administration.
Note: At the SDSU D2 Invite over the weekend, Kemp won the triple jump with his best leap at 48-feet, 11-inches. The next highest finisher had a top jump of 43-04.25 with Kemp adding another triple jump win to his already stacked résumé.