By BRENT STUBBS
Senior Sports Reporter
bstubbs@tribunemedia.net
PAT "the Centreville Assassin" Strachan, president of the Bahamas' Retired Boxers Association Hall of Fame, concurred with Wellington Miller that it's high time that former World Boxing Council Everette 'Elisha Obed' Ferguson get the proper recognition that he deserves posthumously.
Strachan, a former cruiserweight champion of the Bahamas, joined Miller, the immediate past president of the Bahamas Olympic Committee, who called on the Bahamas Government to at least name the East- West Highway in honour of Elisha Obed.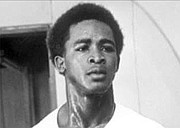 "I think it's long overdue that we honour Elisha Obed for his accomplishments," Strachan said. "I think a highway is quite appropriate for him because a lot of people frequent it, and they will be able to recall what he did as a Bahamian professional boxer."
Strachan, who fought for a couple of international titles, said Elisha Obed became the first and only Bahamian to win a legitimate world title when he beat Brazil's Miguel de Oliveira to capture the WBC light middleweight title in 1975. He went on to defend his title twice, relinquishing it in 1976 top Germany's Eckhard Dagge after he claimed he was thumbed in his eye and had to quit.
After moving up to the middleweight division, Elisha Obed fought Australian Rocky Mattioli for the world title, but was knocked out in the seventh round. He continued fighting locally before he eventually retired in 1988. A year later, Elisha Obed was placed in the initial Bahamas Hall of Fame in 1989. He died on June 28, 2018 at the age of 66.
"The country was just two years old, having obtained our Independence from Great Britain in 1975 when Elisha Obed won the title," Strachan said. "Since then, there has not been anything tangible with his name on it.
"When you think about all of the other people who have their names on some sporting arena or on some of our streets, you have to wonder why the same could not have been done for Elisha Obed."
Not taking anything away from those who have been given such recognition, Strachan said Elisha Obed's accomplishment was done in a sport that requires some much dedication and commitment to training, sometimes all alone.
And he said for Elisha Obed to have reached the top of the world during an era when there were just two major divisions, the WBC and the World Boxing Association, is a huge achievement.
Strachan said it's a shame that both the ruling Progressive Liberal Party and the Free National Movement have both "dropped the ball" in giving Elisha Obed his "just due" over the years.
But Strachan said he hopes that this present PLP government, led by Philip 'Brave' Davis, who have expressed a keen interest in sport, will do the right thing and finally recognise Elisha Obed during the country's 50th celebrations of Independence.