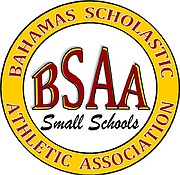 THE following games were played at The Hope Center on University Commons on Tuesday.
PRIMARY GIRLS
Freedom Baptist Academy 5 def c. W. Sawyer Primary 2
Nicolette Forbes of Freedom had three points in the win.
PRIMARY BOYS
Genesis Academy 18 def C. W. Sawyer Primary 1
Caz Bethel of Genesis had seven points in the win.
Jordan Prince William 11 def Kingsway Academy 8
Bryson Taylor and Labron Taylor of Jordan had four points each in the win.
Yorrick Carroll of Kingsway had six points in the loss.
SENIOR BOYS
Mt. Carmel Preparatory Academy 55 def Greenville Preparatory Academy 26
Romin St. Rose of Mt. Carmel had 14 points and 11 rebounds in the win.
Adam Goodman of Greenville had 14 points and 10 rebounds in the loss.