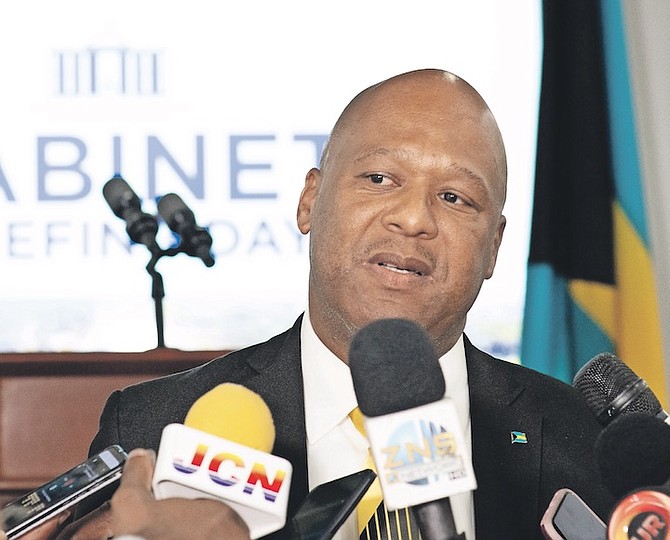 By LEANDRA ROLLE
Tribune Staff Reporter
lrolle@tribunemedia.net
LABOUR Minister Keith Bell admitted yesterday that statistics on the country's unemployment rate have not been as "forthcoming" as he would like.
Mr Bell said he has asked the Labour Department to provide him with the latest data on the country's employment numbers.
"I've tasked the Department of Labour to provide me with accurate statistics in respect to the employment numbers. You'd have seen that we would have had a number of employment initiatives with the private sector and the government," he said.
"But again, I know the media has been asking me for that a number of times and even though it comes within another department, I have asked the Labour Department to specifically tell me the specific numbers of hires and I think that that is what we all want.
"Unfortunately, it isn't as forthcoming as I would want it, but you will get it as soon as I get it."
While no official unemployment survey has been conducted since the pandemic, at the peak of lockdowns, border closures and other COVID restrictions it was thought that more than half the Bahamian workforce had been laid-off or furloughed.
Last June, Prime Minister Phillip "Brave" Davis said the country's unemployment rate stood below 20 percent.
The country's labour force survey was scheduled to begin late last year.
However, it is not clear how much progress officials have made to gather statistics on the nation's unemployment rate to date or if the process has even begun.
In the meantime, Mr Bell said officials are seeking to create more work opportunities for jobless Bahamians and also, prepare the next generation for the workplace.
"It's important that they acquire the skills. It is important that they know what is available, and that they begin to create the mindset to ensure that they get those jobs and we are offering the training through not just the Labour Department, but also all of the agencies through government and the private sector," he added.
This comes as some businesses are struggling to sustain operations due to the high cost of living, among other factors.
Yesterday, Mr Bell was asked for an update on discussions with gas retailers concerning their requested margin increase.
According to the Bahamas Petroleum Dealers Association's vice president, while most retailers have not laid off any staff yet, they have had to reduce employee hours to keep business afloat.
"(As long as) they operat within the confines of the law, I cannot regulate and I cannot deal with what it is that they have to face every day but (once) they operate within the confines of the law, I cannot interfere," Mr Bell said of the issue.