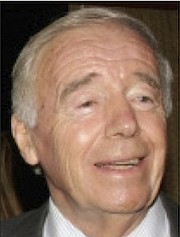 THE extent to which industrial action by militant trade unions is currently causing chaos across Europe may come as a surprise to some. But it is, I think, worth examining as a sign of the times.
While widespread strikes in Britain have been fully reported in the local press, there seems to have been limited international media coverage of violent protests by workers in countries like France, Greece, Spain, Italy and Portugal.
Union bosses there have been leading their members out in droves demanding better pay and working conditions, with nationwide strikes in France – also partly about pension reform - while Greece was brought to a standstill in the face of a general strike in November.
Britain has been grappling for weeks with ongoing strike action across a range of industrial sectors. Walkouts took place almost every day in December and more are scheduled for the coming weeks.
Such strike action is not altogether unexpected given the persistent high rates of inflation that are outpacing wages so that trade unions are pressing for higher pay settlements to prevent a drop in the standard of living of their members.
What is potentially sinister, however, is evidence that the trade union movement in the UK may be trying to provoke a general strike for political reasons, and some commentators are now warning of the danger to the nation's economy of a sustained rolling wave of industrial action.
It is not hard to understand why economists have differing views about whether wage-price spirals fuel inflation, with some maintaining that, as prices continue to rise and workers demand higher pay, this pushes up prices even further and inflation becomes entrenched. But, from a study of the UK press, it appears that many people believe union leaders are principally interested in the short-term in so far as they see their role as protecting and promoting the immediate interests of their members.
Thus, they may not explain adequately that, by pressing for unrealistic pay increases and fuelling inflation, strikers may be impoverishing themselves and the rest of the country in the long run.
In the UK, there are lasting memories – particularly amongst politicians - of the so-called 'winter of discontent' in 1979 when unions worked together in an attempt to bring the country to a standstill in conditions of soaring inflation, high interest rates and severe industrial unrest.
Now, with a general election barely two years away and weak Tory poll ratings, in face of such a range of strikes - including, most alarmingly, in the National Health Service in which action by ambulance drivers has become a particularly sensitive issue - it must be tempting for new Prime Minister Rishi Sunak to give in to inflation-busting pay rises in respect of groups for which the government is directly responsible.
But the elected government of the day must surely show itself to be firm in controlling public spending in the broader interest of the country if it is not to lose the confidence of investors in a national economy that is properly and prudently managed.
It is interesting that, according to the latest polls, a majority of the British public oppose the unions' demands for double-digit pay hikes while, at the same time, supporting their right to take strike action over pay in broad terms. So public support for strikes falls away if the demands are too high.
After the Labour government in the 1970s surrendered to union demands for substantial wage rises to help their members cope with the rising cost of living, public and press criticism led indirectly to Margaret Thatcher becoming Prime Minister in 1979.
Her new Conservative government placed restrictions on trade union power and by 1981 the number of working days lost to strikes fell significantly and union membership dropped. Wide ranging employment legislation severely reduced the power of trade unionism in Britain.
There are clear parallels with the present – high inflation and a rise in strike activity - and, reportedly, the UK government will unveil controversial legislation in the coming weeks to set 'minimum service' levels in essential sectors while inviting the trade unions to new talks to discuss public sector pay settlements in 2023-24.
Against this background, it is notable that after earlier assessments that Britain faced the deepest recession among the world's largest economies and that inflation would remain 'uncomfortably high', official data shows that the UK economy grew slightly faster than expected in November and that price rises slowed for the second month in a row – and it is now being suggested that the recession predicted by the Bank of England last year might be avoided altogether.
Moreover, it seems that at last week's World Economic Forum in Davos there was some optimism that the global economy might now be faring better than expected.
The next major official economic event in the UK will be the Budget on March 15. Meanwhile, the Treasury insists that the way to stimulate economic growth in the immediate term is to bring down inflation – and that explains why Mr. Sunak, in his major speech to the nation on January 4, promised to halve inflation this year in order to ease the cost of living and to give people greater financial security.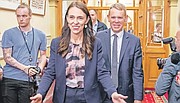 A LEADER MORE POPULAR OVERSEAS THAN AT HOME
NEW Zealand's Prime Minister, Jacinda Ardern, has invariably been called a kind and decent person and inspirational. She has been widely admired as a prominent world leader, not least for her charisma that has brought her much praise, especially overseas.
She has also been dubbed the 'poster-child' of the international Left. But she surprised everyone last week and hit the international headlines with her decision to quit after more than five years in office because she no longer had 'enough in the tank' to do the job.
Signalling the end of her premiership, Ms Ardern's announcement stunned the rest of the world because it is unusual for political leaders to leave office voluntarily and to admit that they are 'burnt out'.
Almost always, such leaders are either forced out of office or step down at the end of their designated elected terms.
She said that the stress of leading one's country can take its toll – the range of responsibilities, the heavy programme of commitments, long hours and constant travelling with little rest; and, in her case, the difficulty of balancing family and career after giving birth during her time in office.
She said that the pressures were greater in the era of social media and the 24-hour news cycle.
As prime minister, Jacinda Ardern was faced with a number of crises, including the Christchurch mosque massacre of fifty-one Muslims in 2019, the coronavirus pandemic in 2020, after which her Labour party won a landslide election victory, and a major earthquake.
She received international acclaim for her handling of the first two. But, subsequently, not everyone at home was happy with the prolonged draconian lockdown measures imposed by her government to combat COVID-19 which included closing New Zealand's borders for lengthy periods.
After this, she was criticized as a 'Covid zealot' and her popularity and that of her party waned to the extent she was attacked by the anti-vaccination movement and right-wing protest groups.
In the foreign affairs field, she actively developed bilateral relations with China – New Zealand's biggest trading partner and source of tourism and of long-term migrants. But, according to most reports, it seems her domestic reform programme in relation to issues like crime, poverty – especially child poverty – welfare and housing and benefits for minority Maori and Pacific citizens were less successful. So, some say that her sudden resignation may have had something to do with a realization that she would have struggled to win again at elections in October.
Jacinda Ardern declared at the beginning of her premiership that she preferred kindness to confrontation and proposed to adopt a 'compassionate' leadership style. With her charm and charisma she surely captured the world's imagination. But her domestic political record was judged to be relatively poor. So, in the end more and more people were saying it was all a matter of looking good and talking positively but not achieving much – a triumph of style over substance? That sounds a harsh judgment which some will say is unjustified, but time may tell.
I have written fairly fully about this today because it is invariably interesting when an apparently successful political leader suddenly steps away from the top job. This prompts reflection on the qualities of politicians and what motivates them to seek power in public office – and I hope to offer some thoughts about that in next week's column.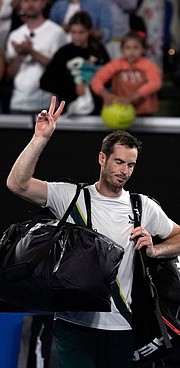 A TRUE PROFESSIONAL BRITISH SPORTSMAN
ONE of the advantages of being temporarily house-bound for medical reasons is the opportunity to watch TV at will. This past week I tuned in to what turned out to be an exciting and truly memorable match – later labelled 'epic' -- at the Australian Open tennis tournament in Melbourne featuring Britain's leading player, Andy Murray, or Sir Andy as he should be called formally. He was up against a prominent local Australian player called Thanasi Kokkinakis in the second round having defeated a top-20 player, Italian Matteo Berrettini, in a five-set thriller in the previous round.
As a five-time finalist at Melbourne, Murray is said to be a well-liked figure there. He ultimately prevailed over his Australian opponent in five sets after coming back from two sets down in what became the longest match (more than five hours) he had ever played and which lasted until 4 o'clock in the morning. Commentators ran out of superlatives to describe what was judged to be an exhilarating exhibition and phenomenal display of top-class tennis in a wonderful atmosphere – a match full of drama that went right down to the wire with a fifth set score of 7-5.
Andy Murray is a three-time Grand Slam winner – Wimbledon twice and the US Open – and a two-time Olympic gold medallist in singles. He is also a former World No 1. He has reached eleven major finals, and, by winning the US Open in 2012, he became the first British man since Fred Perry in 1936 to capture a Grand Slam title.
In the next round in Melbourne, he lost to the leading Spanish player, Roberto Bautista Agut, in a close four-set match. But his performances in the first two rounds have been hailed as exceptional, not least for his grit and determination in fighting back after losing the first two sets.
Having reached the heights of professional tennis as Grand Slam winner and World No 1, now -- at the age of thirty-five and with an artificial hip because of earlier injury - people wonder how long it will be before retirement beckons. But his will to win seems to be undiminished and he is quoted as saying recently that 'I can still do some damage'. Long may that be the case – and fans of the most successful British tennis player of modern times will surely wish him well.