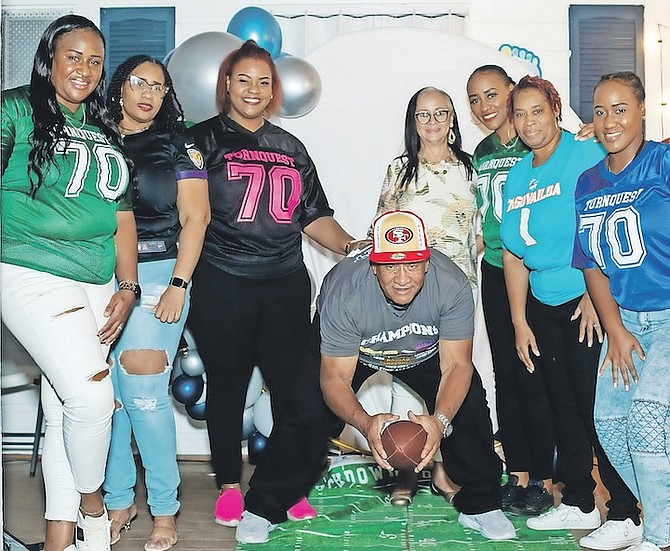 By FELICITY DARVILLE
AMERICAN football has yet to become as big as it could be in The Bahamas. Even though thousands of Bahamians energetically follow the NFL and anticipate the Superbowl, football is not a major sport in this country.
Young Bahamians who could potentially become some of the greatest stars in the NFL never have the opportunity to train for the sport.
While sports like track and field, basketball, baseball, swimming and others are getting more attention and focus as Bahamian children are excelling in these areas, American football has yet to gain prominence.
Nonetheless, people who are passionate about the game and who play it well continue to push for its recognition and support in this country.
There was a time when the local league gained immense popularity and had a robust roster of teams competing in a series of tournaments. Even now, there are those still carrying the torch with hopes that one day, government and private investment could come together and create a league that could nurture young talent and breed superstars.
Considering the sports prowess of Bahamians in other fields, this dream is one that has full potential to come to fruition and could serve as another way to put The Bahamas on the map.
Today, as one of the brightest stars in local football in The Bahamas turned 70 years old, comrades, colleagues, players and enthusiasts gathered to celebrate his birthday and their beloved sport.
Burket Turnquest, Sr, put his heart into his football game and because of it, he became a ten-time all star, six-time all Bahamian, and overall 12-time champion in the game of American football in The Bahamas as a player and coach. His story is one that could pave the way for young men in the country, in need of a more aggressive outlet to express themselves, to find their niche and become successful.
For a big, tall young man like Burket, athletics was a given. Like many young boys with girth growing up, adults will make comments with expectations that they should be good in one sport or another.
Burket first took an interest in baseball and softball. He played baseball for the Slitz Beer team, and he played softball for Civil Aviation in the Government's Departmental League. Back in 1969 while playing softball, Burket was banned for playing too rough. The league said he needed a more contact sport.
This is the case with many young men today. Considering the circumstances they face, especially inner city children, those from broken homes, those with educational challenges and so on, need an outlet to express frustration constructively. A sport gives a child an opportunity to belong, to display their talents, to be praised, and to release their energy positively.
Burket knows this well; that is why he not only enjoyed a decent career in local football, he put his energy into coaching countless kids in the sport he loves. He played for several successful football teams, including: the Nassau Jets from 1970; the Citibank Chargers from 1976; Citibank Pros from 1978; the Baintown Bombers from 1980; and the Nassau Sunburners from 1983. During this time, Burket helped his teams come to many victories, and contributed to the prowess that many of his fellow athletes still have today.
When he joined the Nassau Jets in 1970, Burket played offensive centre. His teammates included Jesey Ferguson, Don Huyler, Gilbert Moncur, Earl Bostwick, Keith "Five" Albury, Secora Allens, Skeebo Roberts and Megorn Knowles. The team went on to win three consecutive championships. Later on, with the Citibank Chargers, Burket was coached by Billy Lowe. That team included members like Pastor Dave Lamb, Sidney "Butts" Outten, Steve Thompson, Glenn Pritchard, Danny Albury, Larry Minns and others.
During his time with the Citibank Pros, Burket experienced another winning streak, as the team racked up three championships.
Team members included Michael Foster, Lilly John Taylor, Charlie Green, Edney Pickstock, Valdez Bodie, Apple Edwards, Sheldon Cartwright, Ricardo Thompson, Ken Kerr, Terry and Brad Outten, Obie Roberts, Trevor Major, Quentin Albury, Revelo Williams and Ace Bullard.
Eventually, Burket turned his attention to coaching. He wanted to see the younger generation get out on the field and find the same enthusiasm and self pride that he built out there playing. He coached three teams during his tenure - the John Bull Jets, the Bain Town Bombers and the Nassau Sunburners. Burket coached each of these teams to their first championship.
When asked what football could do for young men in The Bahamas, Burket noted that crime had decreased in areas where American football had been introduced previously.
"The game of football has the ability to transform the lives of young men," Burket shared.
"They can put down their weapons and put their aggression on the field. Football creates a bond - a brotherhood. I can recall guys who I tried to recruit, telling me that they couldn't focus on playing because they needed a job to take care of responsibilities. They had no interest in the sport. I told them to come and play and I would take care of it. I would canvas other players who were business owners who were well placed, and they helped."
Altogether, Burket invested 30 years of dedication and passion into the sport of football, either as a player or a coach, leaving a successful track record that many spoke of during his 70th birthday party this past weekend.
Minister of Social Services and Urban Development Obie Wilchcombe was among those gathered to celebrate Burket's birthday. "Burket, you are a special one," Minister Wilchcombe told him.
"Whenever you saw me, it was always a good embrace. You were always encouraging me in what I was doing. Politics never was an issue, because our relationship, our time on the football field had nothing to do with the politics of our lives or the politics of the country. You are blessed by God to reach the age of 70, and I pray God I reach that age and people will love and cherish me the way they are doing for you."
Minister Wilchcombe pointed out that the outpouring of love from his family and friends shows the merit of Burket's character. He also praised Burket for his passion for farming and most importantly, for teaching others whenever he could.
"It's so good to see my colleagues and friends who I played football with, and to talk about the hits and the times we had on the football field," Wilchcombe added.
"We can laugh at it today, but we had some pain! But we had fun. When we won, we celebrated, and when we lost, we celebrated. We always remembered that it's playing the game that counts, not the win... not worrying about the losses, but playing the game. You've played a wonderful game in life, and you're always a winner."
Reflecting on his beloved sport, Burket shared: "Generally, the sport of football can bring discipline to a young man's life."
"It allows you to take your aggression out in the field. Also, if you're really good, an opportunity may present itself for a scholarship. I have had a son who played locally, and another who played for the US Army. I have a grandson playing pony league in the US, and another who received a scholarship to an American university to play football. Those who still can, should use this sport as an opportunity to mentor young men."
Burket pointed out that there are a number of players who had the opportunity to play football abroad. My father, Allan Ingraham, is among them. He was playing in the local league like Burket. The coach for the Washington Redskins was visiting Nassau and decided to watch a local game. He saw my father, and impressed by his skill, invited him to America to join tryouts.
Allan became one the first players to join an NFL team not by being drafted, but as a Free Agent. He proudly wore the Redskins uniform. When the Tribune printed its Independence edition on July 10, 1973, my father was starring in the sports section for representing The Bahamas abroad. During training, Allan was unfamiliar with the calls used in professional football. His skill was undeniable, but he needed the technicality to go along with it.
From that time, 50 years ago until today, the Bahamas American Football League is still in need of the kind of assistance and support necessary to train Bahamian athletes to be able to rise to heights in the sport such as the NFL - National Football League of America. My godfather, Ed Smith, received training at Colorado College and went on to make The Bahamas proud as a member of the Denver Broncos. He was selected in the 13th round of the 1973 NFL Draft by the Denver Broncos, becoming the first player in league history from the Bahamas to be drafted.
His son, Alex, enjoyed an extensive career in the NFL, which started with the Tampa Bay Buccaneers in 2005, and ended with the Washington Redskins in 2015.
But football isn't Burket's only passion. He has invested decades of time, love and effort into farming as well. His family (his uncle, Charles Papageorge and wife, Shirley) started the well known Marigold Farms back in 1962.
Burket, his cousin Ida and other relatives all worked in the family business. Marigold became one of the largest farms in The Bahamas with an outgrowth of 140,000 birds. The farm provided chicken to businesses including Chicken Unlimited, Kentucky Fried Chicken, Super Value Foodstores and several restaurants on Bay Street.
His experience at Marigold Farms eventually led to him starting his own farm - a piggery. His customers looked forward to the fresh, tasty pork he provided.
Burket pointed out that while farming can be rewarding, it requires a "huge personal investment". He started by purchasing his own animals and maintaining a husbandry, which also requires significant investment.
The government assisted farmers like Burket with some feed from the feed mill, however, farmers often had to bring in their own feed to compensate for the needs of the farm. His farm did experience some degree of success, but like many farmers, Burket says much more support is needed for Bahamian farms to thrive.
At heart, Burket is a patriotic Bahamian. He was born in New Providence and is the eldest child of Thelma and William Turnquest. His mother hailed from Exuma and his father hailed from Deadman's Cay, Long Island.
Burket was always industrious and for a time, he worked in construction, helping to build Lowe's Hotel. He then became a self-employed contractor to construct numerous middle and upper class homes in New Providence. He believes that once given an opportunity to be productive, and form a sense of brotherhood, many young men in this country could be saved from a life of crime and instead, like him, find purpose in life.
CONDOLENCES TO THE FAMILY OF KENISE DARVILLE
LAST year, I had the opportunity to share Kenise's amazing story as a wife, mother, daughter and entrepreneur. She sewed seeds into the next generation with a successful arts and crafts summer camp.
But Kenise was also my friend and classmate at the Bahamas Agriculture & Marine Science Institute (BAMSI). She and her husband, Jerad, and my husband, Victor and I, all attended BAMSI, preparing to graduate this year. Kenise was an excellent classmate with near perfect scores in her classes. We had great plans upon graduation.
Her loss is one shared with the entire BAMSI student body. We offer Jerad and her entire family our heartfelt love and support through this most difficult time.
BAMSI executive director Raveenia Hanna shared these words: "The sudden passing of Mrs Kenise Darville has left a gaping hole in the student body landscape of The Bahamas Agriculture and Marine Science Institute, BAMSI. Kenise was an agribusiness major making great strides in her academic endeavors.
"She was passionate about her work and made every effort to apply what she learned to her future business plans.
"Kenise had a fierce determination and made a positive impact in her classes and here at BAMSI.
"We are shocked, heartbroken, saddened and still grappling with the recent events. There are no words that can express the emotions that we are all feeling, but it is our prayer that the Lord will comfort the family during this time of bereavement.
"On behalf of the administration, faculty, staff and students of BAMSI, I offer sincerest condolences to the family of Kenise Darville - to her husband Jerad, a BAMSI student, we stand with you in support and in prayer. May her passing bring the needed change and may her soul rest in peace and rise in glory."