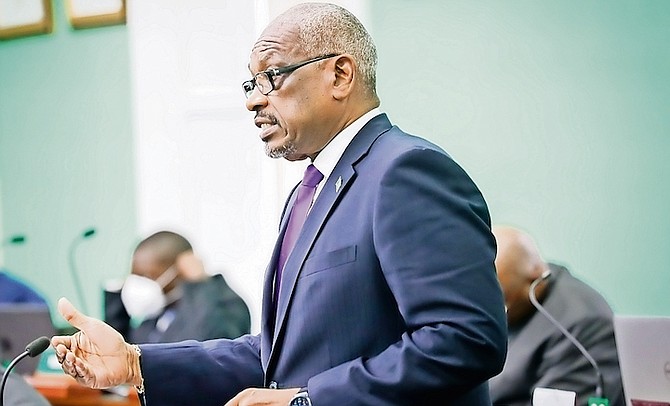 By JADE RUSSELL
jrussell@tribunemedia.net
FORMER Prime Minister Dr Hubert Minnis yesterday urged the Davis administration to get a grip on illegal immigration, saying "we are now experiencing an immigration crisis".
"We are now experiencing an immigration crisis just as we are experiencing a crime crisis. And Bahamians are now becoming extremely frustrated and the Prime Minister must take control of this and lead. The government must present a plan as to how they're going to deal with the immigration problems," Dr Minnis told The Tribune.
He said issues of immigration range from the unregulated shanty towns to the oversaturated number of work permits being given.
"The shanty town seems to be growing even more. We need to note the number of work permits and the number of visas that individuals are obtaining in Haiti to visit The Bahamas," he said.
 Dr Minnis said that the government needs to take an aggressive approach to clamp down on the situation, adding there needs to be a plan put in place.
 He also pointed out that an evaluation is needed to see how many work permits are being issued especially when many Bahamians are still unemployed.
 "Because there are thousands of unemployed Bahamians who are complaining every day. And yes, the FNM government, we were looking at legislating. . .legislating the requirement for applying for a work permit."
He added: "The first work permit can be applied for only from outside the country. There is a policy in place that one has to apply from outside the country, but that needs to be legislated."
Dr Minnis argued the Prime Minister is not leading as "effectively" as he should to address the problem.
"Just like we need a crime plan we need an immigration plan," he said.
He noted that Haiti is in a state of chaos and has an outbreak of cholera, adding as more shanty towns increase it makes The Bahamas more vulnerable to another health crisis.
In November, the government's shanty town committee started surveying several irregular communities as it seeks to crack down on the growing problem, according to Works and Utilities Minister Alfred Sears.
When asked about the government's committees and task forces, Dr Minnis questioned how many committees the government plans to have.
"Their plan is to establish committee after committee, and then review what the committee had put forth. But most importantly, the shanty towns have to be dealt with. You run the risk with the cholera outbreak in Haiti, that is very dangerous," he stressed.
Dr Minnis added that the Free National Movement in its term had a plan to tackle the unregulated shanty towns, noting they were stopped by the courts.
On Thursday, despite some critics saying the government is not doing enough to clamp down on illegal immigration, Prime Minister Phillip "Brave" Davis insisted that his administration is addressing the problem.
"We are addressing it. We are addressing the issues that impact (us)," he told reporters.
"This is not a new issue. This is an issue that's been with us from pre-emancipation. If you check your historical facts, you'll know that this issue of migration in The Bahamas as it relates to our neighbours to the north and throughout the Caribbean has been with us from pre-emancipation."
Before Hurricane Dorian decimated them in 2019, shanty towns across Abaco had more than 1,000 homes and an estimated population of 3,500, according to government reports.
However, after the storm hit the island, the Minnis administration issued an immediate ban on the construction of any new buildings in the four major shanty towns on Abaco and later began demolition exercises of newly built structures there.
These efforts were stopped after Supreme Court Justice Cheryl Grant-Thompson ordered the government to halt interfering with those communities until the judicial review of the matter, which is still pending, was completed.
She also ordered that officials must get approval from the court before demolishing any further structures.