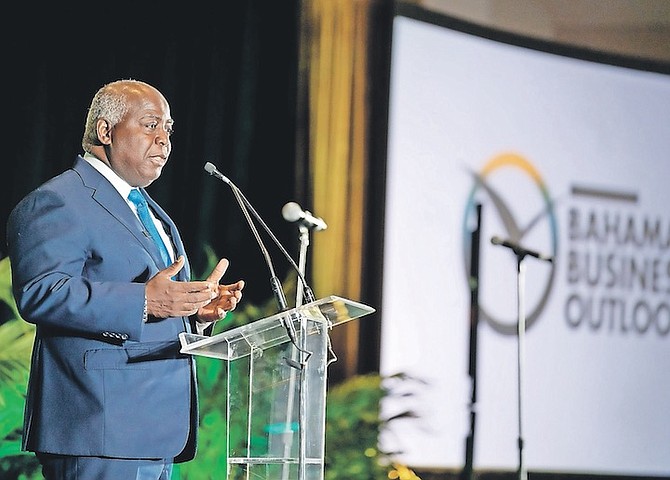 By LEANDRA ROLLE
Tribune Staff Reporter
lrolle@tribunemedia.net 
PRIME Minister Phillip "Brave" Davis said his administration will focus on three key areas over the next 12 months: the economy, education and crime.
Mr Davis gave a glimpse into his government's agenda for 2023 while addressing the 32nd annual Bahamas Business Outlook at Baha Mar yesterday.
He said when his administration assumed office, it inherited an economy in severe recession, a government deeply in debt and schools in disrepair.
However, he said that even though these challenges remain serious, his administration is finally moving in the right direction.
And for the next 12 months, he said, much focus will be placed on the economy, education and crime.
"We will continue to pursue growth in GDP and revenue, maximise the amount of investment in the country, and maintain efforts to reduce our debt."
" That said, we will put a particular focus on reducing the 'cost of living' and making efforts to lift people out of poverty," Mr Davis said.
 "Even though the inflationary pressures are largely the result of global events and foreign economies, we will do whatever we can to ease the burden on Bahamian consumers.
 "Last October, we were pleased to have our efforts recognised by one of the international ratings agencies, who acknowledged that in the last year, our country has made substantial progress in our economic recovery and fiscal performance."
 With respect to education, Prime Minister Davis acknowledged it is a main contributor to national development and how "we build our nation."
 He said it is for this reason, the government will place greater focus on the work officials have already started.
 "Our teachers and administrators are working hard, despite facing serious challenges. But now more than 100 teachers have been recruited, and for the first time in years, teachers are seeing an increase in salaries and benefits, along with a retention bonus," he added.
 "We conducted more than 200 repair projects at our schools, to make them ready for reopening. But as extensive as the infrastructure repairs were, it is far more difficult to repair the damage done by years of interrupted schooling."
 "And, so our Learning Recovery Task Force is taking a multi-layered approach to making up for lost time."
 He said the government has added security officers in junior and senior schools to make school environments safer for students and staff.
 He added: "BTVI and Urban Renewal are working together to engage students across our islands in the Smart Start programme, which provides training and job readiness certificates for those who didn't graduate due to the pandemic."
 Mr Davis also spoke to the government's third priority—crime—saying "too many of our young men are in a crisis" and referenced his recent meeting with US Vice President Kamala Harris at the White House this week.
 He said the two discussed a number of issues, including illegal maritime migration and gun smuggling.
 "We agreed to broaden and strengthen the already strong partnership between our two countries in fighting these scourges, which do so much to threaten and undermine our society. If we can make our borders more secure, and reduce the flow of guns into our country, we will take big steps forward in national security."
 In closing remarks, Mr Davis invited Bahamians to partner with the government for the sake of advancing the country's interests.
 "Once again I invite you to partner with the government, especially around the priorities which I have set out," he said.
 "There are entrepreneurial opportunities in economic development, education and criminal justice. For example, could you create a new business offering education in literacy, numeracy and finance? What enterprise might you create to support the rehabilitation of former prisoners? What business can you operate that helps to uplift the poor and provide opportunity?
 "This 50th anniversary of independence also presents an opportunity for you to consider or reconsider how you would like to do business in the next 50 years."