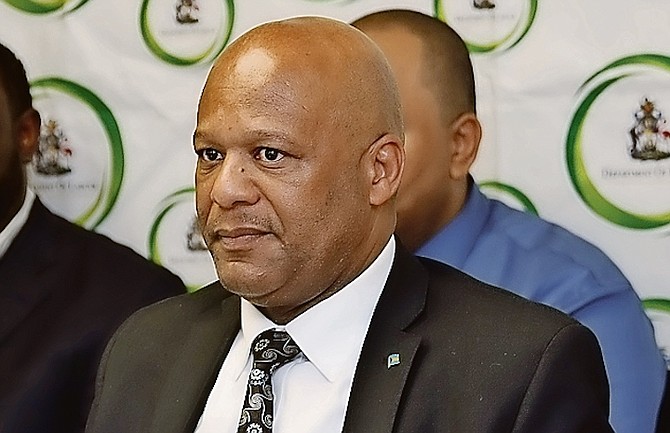 By LEANDRA ROLLE
Tribune Staff Reporter
lrolle@tribunemedia.net
IMMIGRATION Minister Keith Bell issued a stern warning yesterday to people living in the country illegally "to wind up" their affairs and leave immediately or face deportation.
Mr Bell told Parliament The Bahamas cannot accept an increasing number of migrants, as doing so would put a strain on our resources, which in turn would reduce the quality of life for all Bahamians.
It is for this reason, he said, the country must ensure that its borders are protected.
His comments come amid public outcry over what some term to be an "immigration crisis" in the country.
On Tuesday, a group of Bahamians, led by political activist Lincoln Bain, protested outside the Office of the Prime Minister, demanding more action from the government to tackle the problem.
 "Madam Speaker, statistics from the Department of Immigration showed significant increases in the number of migrants intercepted in the past two years," Mr Bell revealed.
 "In 2021, 226 Cubans were intercepted and repatriated from The Bahamas. In 2022, this number jumped by almost 800 to 1,001 Cubans. Our records also revealed that they experienced the same jump in irregular migrants from Haiti in 2021 whereas 2,290 Haitians were repatriated. In 2022, we saw an increase of over 1,100 persons when 3,349 persons were repatriated."
 Mr Bell repeated that last year was a record-breaking year in terms of repatriations. He had  earlier said that some 4,748 migrants were sent back to their home country in 2021.
 He also revealed that the government has established a temporary holding facility in Inagua to allow for quicker repatriation exercises.
 "Our goal is to ensure that irregular migrants found and intercepted in the southern Bahamas would be repatriated from that island without having to come all the way up here to New Providence," Minister Bell told parliamentarians.
 He added that the government will remain relentless in efforts this year to crack down on shanty towns, while promising more special operations and investigations in the weeks ahead.
 "Madame Speaker, over the past decades, successive governments have struggled in restricting the creation and expansion of irregular communities. This is the most serious issue and one which the public rightly demands the government to remedy," Mr Bell said.
 "The honourable minister with responsibility for works and utilities is assiduously working in his ministry's plan to address this long-standing issue."
 "In the upcoming weeks and months, the Department of Immigration will increase the numbers of special operations occurring and the number of investigations for the following: one, to ensure that all persons living in such communities have legal status in this country.
 "And two, to confirm that any permit holders living in such communities are doing so in terms of their applications."
 He warned that any permit holder found in violating terms of their application will be sent back home, emphasising that "The Bahamas is a country governed by a rule of law."
 "The department is presently reviewing our policies to strengthen our investigation and confirmation of the living conditions of all work permit holders. All persons holding work permits in this country must comply with our laws and regulations, including all of our building codes, health and sanitation requirements."
 "When it is shown that the holder of a work permit is living in an irregular community or in other conditions which do not comply with our building or public health guidelines, such permits will be revoked and the holders deported."
 He also advised people against spreading false information, saying there is no room for xenophobia in the country.
 "Madam Speaker, I believe that I speak with one voice for all in this honourable place that we remain committed to the protection of our sovereignty and immigration laws," he said.
 "This statement is important as across the world, we have seen the dangers of the rise of fringe groups and their campaigns of misinformation, campaigns that seek to divide and not unite, to destroy and not to build.
 "Madam Speaker, the dangers I speak of is not a theoretical debate but a real one - Madame Speaker, we have many legitimate issues which we can discuss and debate. There is no need to manufacture issues.
 "There is no place in this country, Madam Speaker, for xenophobia and making reports that have no reasonable basis."