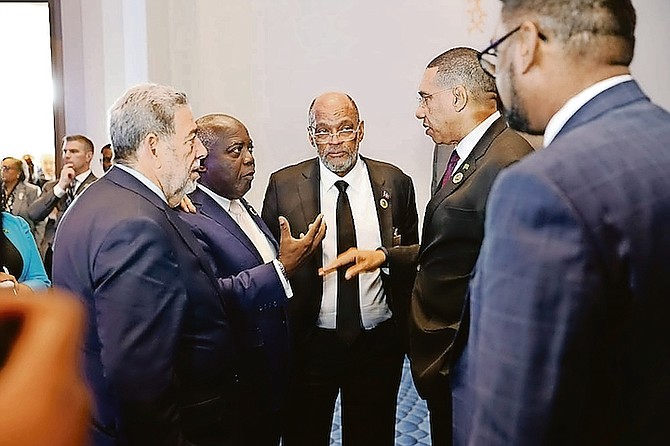 By MALCOLM STRACHAN
SO CARICOM came, and CARICOM went – and while there may have been some bumps at the outset, now that it's all done, what was achieved?
First of all, those bumps – starting with the protest led by Lincoln Bain and his band of supporters. Mr Bain announced ahead of time there would be a protest, and I suspect he got the outcome he wanted. Police seemed to play into his hands with the manner in which it was dealt with. He was arrested and promptly made claims that he was abducted – even though he has been charged already in court with unlawful assembly. He was not the only one charged – 17 others also faced court on Friday.
The incident also apparently saw a police officer snatch a phone from a Tribune reporter and threaten to arrest one of the newspaper's photographer.
If the government was keen to ensure the spotlight remained on the Prime Minister's opening speech, then this was not the way they would have hoped for the event to start.
But once under way, how significant was the conference for The Bahamas?
Such events are often underestimated by the public. Gatherings such as this are an opportunity to make progress face-to-face on projects that have long been in the works.
An example that might not make too many headlines are the efforts to reduce food import costs, with Agriculture Minister Clay Sweeting able to meet the assistant director of the United Nations Food and Agriculture Organisation, Mario Lubetkin, to improve efforts in that regard.
Will that push us toward that goal? We shall see the outcome in the months ahead – but these events can be stepping stones toward such targets. Already, the FAO is helping the ministry to qualify for $10m in funding. That might not go far, but it can certainly help.
The biggest changes though seemed to revolve around Haiti, with Canadian Prime Minister Justin Trudeau at the forefront.
Extra sanctions were announced, and Mr Trudeau committed Canadian naval ships to assist the Haitian police.
Already, Canada has been flying surveillance planes over Haiti to get a better idea of gang presence in the nation, and the navy vessels will reportedly assist with surveillance.
He stressed, however, that those vessels will not be there to intercept migrants, but simply to assist with controlling gang activity.
There is a double edge to that, of course. Many migrants are on board boats being operated by gangs, taking money from migrants which then gets used to fund gang activity.
Canada has also provided extra equipment to the police, and increased its presence at its embassy in Haiti.
What Mr Trudeau did not commit to – or rule out – was troops on the ground.
That is the major point that has been asked for by Haiti Prime Minister Ariel Henry for months now, and the support offered so far falls short of that.
Perhaps that is still to come. Perhaps this meeting will have had discussions on that point that need to be resolved before an announcement – or perhaps not.
Last night, Prime Minister Philip "Brave" Davis was to give a national address on the outcome of the meeting – but with regard to Haiti, he said that within weeks, "dare I say three weeks, we will see the results of the efforts of CARICOM".
Also useful from the meeting was the opportunity for other voices to be heard on the issue of migration – such as Amy Pope, the current deputy director general at the International Organisation for Migration.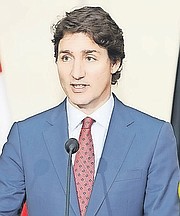 There is often a political advantage to be gained from talking about migration – it's no surprise that Lincoln Bain has been using the issue of migrants to bolster his support.
In all of that, it is sometimes useful to listen to more level-headed voices, those not seeking to gain from the issue. Mrs Pope pointed out the need for addressing migration on a broader basis.
After the recent ruling on shanty town demolitions, her comments are timely – pointing out the need to look at the big picture.
Knock the houses down, where do the people go? As she said, "what will keep them from living on the streets? What will keep them from becoming burdens to society or otherwise ensure that we're respecting their human dignity?"
People don't build shanty town properties because that's what they want, they do so because that's the only option available to them.
A significant number of shanty town residents are Bahamian or have legal status too – a survey in 2018 discovered that around 80 percent of residents have legal status.
Where shanty towns are on private property, many of them are paying rent too.
In terms of power, the people living at such locations have next to none yet are the ones who have fingers pointed at them rather than those they pay money to who enable such situations.
So Mrs Pope will win few supporters for her comments, but she is entirely right when she says this needs to be an issue with multiple countries working together.
Which brings us back to Haiti.
People flee Haiti for a better life. A job. A home. A future for their families. They come here because we offer those jobs, even if we don't as a nation want to offer a home.
The situation in Haiti is a mess – and more people are continuing to flee from that mess. Some coming here, some heading for the US, some heading for Mexico before heading north.
I am under no illusions that even if we were to fix that mess, then migration would suddenly halt. Haiti was already experiencing problems with poverty – let alone the effects of earthquakes in the nation.
Bringing stability back to the country will help, though – and should just be the first step in helping to build that nation.
Mrs Pope essentially says we need to work with our neighbours – and what we should want is Haiti to be a strong neighbour, not the weak one it has been for too long now.
Will CARICOM have done enough to start that process? Well, as Mr Davis says, let's see in three weeks time.