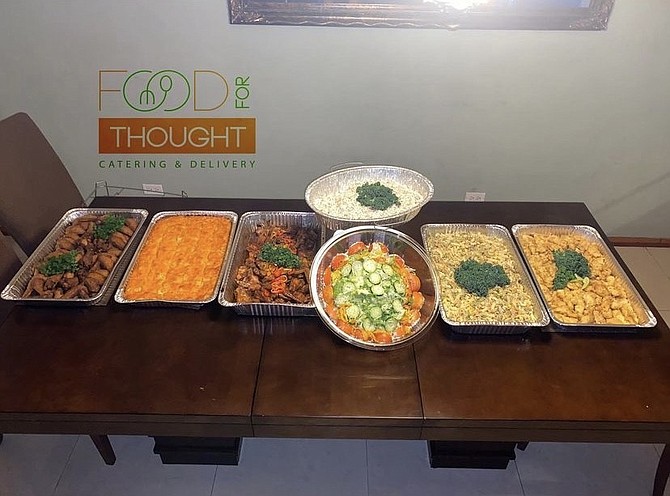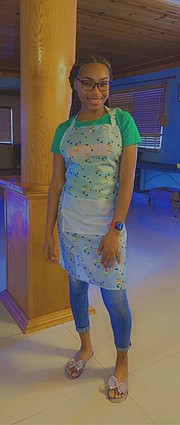 By ALESHA CADET
Tribune Features Writer
acadet@tribunemedia.net
As a little girl, Jewel White said her mom always kept a little pink step stool in the kitchen for her to stand on and watch her cook.
And coming from a family of chefs, there was no question of where her love for cooking came from.
Today, the now 25-year-old is a chef in own right and owner of the Food For Thought catering service.
Cooking for her family members was something she did for years, but the deciding factor to open her own business came in 2017.
"I had lost my job, and sitting at home idle was just completely out of the question for me, so I decided I was going to turn my love for cooking into something that can possibly be profitable for me. When I first started, I only had intentions on doing it until I got another job, but once I started there was no way I was going to stop," she told Tribune Woman.
Over the years, she said, her culinary skills have grown in more ways than one, but especially in its presentation.
"I think I've always had the flavour. I never went to culinary school, so I never really had an eye for plating or garnishing, even now it's still something I'm constantly practicing and trying to perfect. My client base has also grown more than I could have imagined," said the St Anne's graduate.
"I think what I like most about this is being able to create dishes every day and experimenting with different flavours and combinations while seeing the joy on customers' faces and getting their feedback. I love how much my ability has grown over the years. When I go into the food store, I'm like a kid in a candy store. I always want to try something; I always want to test myself with a new cut of meat I've never prepared before, and I love trying new seasonings to see what goes best."
When she started Food for Thought, Chef Jewel said was in search of happiness. She was at a pretty low point in her life and cooking was always something that made her feel content.
"I fed off the good reviews and the reactions I got from people trying my food and I knew that was something I could do. Everyone around me always just had a knack for something and I was happy that I had found mine. For me, feedback is everything and my customers know this. The best part of my day is when my customers are sending me photos of empty plates and telling me how much they enjoyed it. I also really appreciate my customers that tell me when I could have done something a little better," she said.
The menu at Food for Thought is always changing, however, curry chicken is – by popular demand – a staple.
"When I post a menu and there is no curry, I'm in trouble with my customers. I have a wide variety of customers, so I like to keep the menu changing to satisfy everyone's taste buds," she said.
She believes the main thing that makes her dishes unique are the ingredients. Anything that can be made from scratch, will be made from scratch. She loves fresh ingredients and doesn't take any short-cuts.
"One of the main goals I hope to achieve this year is to fully launch my meal prep programme. I'm learning to evolve with time and with everyone working on health, fitness and dieting, I want to be a part of that. There is a stigma around healthy foods… that they don't taste great, and I can't wait to launch to show that healthy food can be just as delicious. Another goal I had for the year is to be in my first pop-up and I will be crossing the goal off the list because on July 30. I will be at the Summer Pop-up Extravaganza at the Botanical Gardens hosted by iLash Lab and Mtech," she said.