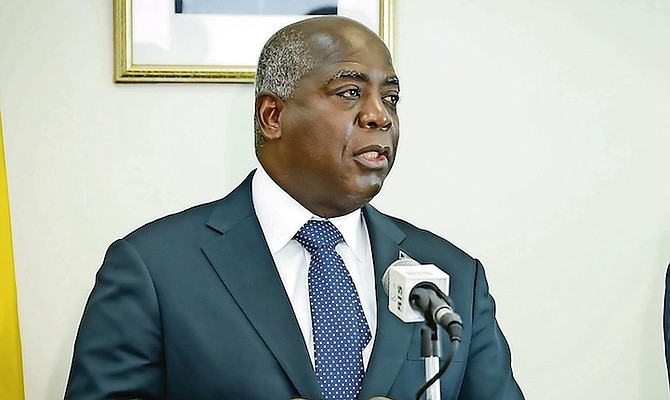 By FARRAH JOHNSON
Tribune Staff Reporter
fjohnson@tribunemedia.net
PRIME Minister and Minister of Finance Philip "Brave" Davis said his administration is "assessing" the country's debt arrangements and will seek to negotiate where necessary to avoid default.
His comments came when speaking to reporters after returning from his recent trip to the United Nations General Assembly.
Mr Davis was asked about a recent article in the Jamaica Gleaner which said Caribbean economist Marla Dukharan said The Bahamas was one of two countries expected to default on their sovereign debt. Ms Dukharan made similar comments in 2020.
In response, Mr Davis said his administration has brought back the substantial financial secretary, Simon Wilson, and is now "looking and assessing" the country's debt arrangement to determine how best to approach it and to avoid any default. He also said his administration planned to "live up" to the nation's obligations and stated where they are unable to, "seek to renegotiate the terms so as not to be in default."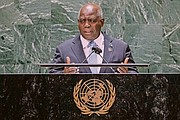 Meanwhile, Mr Davis described his trip to the UN General Assembly as "extremely productive", stating government officials have had several discussions with other country heads about climate change, COVID-19 and debt relief management.
On Friday, Mr Davis and a delegation travelled to New York to attend the event, where he made his first international speech since taking office.
"Our trip was extremely productive and on every measure, I think successful," he said. "We were able to conduct bilateral discussions with 11 countries at several levels (including) heads of government, foreign ministers and ambassadors. Discussions ranged across a number of issues of strategic importance to The Bahamas. With Prime Minister of Barbados Mia Mottley, we discussed ways of enhancing and strengthening our partnership in the region particularly in the measures we adopt to support our economic recovery."
Mr Davis said Barbados was also on the brink of "financial collapse" when Prime Minister Mottley assumed office. He said he had "deep and intense" discussions with Mrs Mottley based on the experience she had in engaging the International Monetary Fund (IMF) to assist her country with its challenges.
He said his administration plans to review some of Mrs Mottley's ideas and see how they could fit within The Bahamas' model, and determine whether the country will "borrow" some of the tactics Barbados utilised or not.
"(With) the secretary general of the United Nations who was recently re-elected, Antonio Gutteres, we discussed issues, including the continuing impacts of climate change in The Bahamas, a global strategy for securing COVID-19 vaccines, and the management of effective debt relief," he said.
"As his excellency noted, we see eye-to-eye on a number of these topics. On the specific issue of securing access to COVID-19 vaccines for Bahamians, I repeated the point I made during the past few days. It is strongly in the interest of the developed countries to ensure fair and equal access to vaccines for people (of the world) from all over. And as I mentioned and a measure I took to the UN was, none of us are safe until we are all safe."
Mr Davis said "since coming into office 10 days ago," he has said much about the importance of the partnership the government has started to build with the Bahamian people. He said he was happy that they have been able to widen that partnership to "embrace international friends".
Mr Davis said government officials were also able to meet with some of those who assisted Bahamians who are living abroad in the United States. He also said he was confident that they have begun to "lay the groundwork to effectively pursue the country's national interests" as they now prepare for an upcoming international conference on climate change that will be held in Scotland in November.
Yesterday, Mr Davis also addressed the recent elimination of the travel health visa for inter-island travel.
"We understand that there has to be some technical adjustments to the web process to enable us to achieve the objective which we set out to do and we hope to be able to have that all sorted by October 1, at which time you will perhaps see a complete new regime as well," he explained. "We're doing away with travel visas for Bahamians, that's my objective but it will probably remain in place for visitors."
Mr Davis was also asked whether the country could expect to see more than one competent authority moving forward.
In response, he stated: "There will not be one person exercising the role of a competent authority. That's why I said by October 1, perhaps we will see a complete new regime that will take into account the promises that we would have made during the campaign. It will not be the Prime Minister for certain. It ought properly be in the Ministry of Health. We're dealing with a health crisis. So why it is in the Office of the Prime Minister even baffles the experts and doctors when we speak to them about, first of all where we had come from, where we are and where we ought to be. We're concerned about the pandemic spending and therefore we will look into it. Now whether it requires the high level of the commission of inquiry, that will only be decided upon when we see where we are with the preliminary overview of the same."