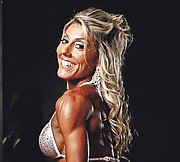 By BRENT STUBBS
Senior Sports Reporter
bstubbs@tribunemedia.net
AS she gets set to return to the NPC 2021 CJ Classic and Sunshine State Bodybuilding Bikini Physique Figure Fitness Classic next month, Serena Salis Decius-Norius is hoping to make an impression on her rivals in two different categories.
Decius-Norius will be heading to the classic at the Palm Beach County Convention Center in West Palm Beach, Florida, on Saturday, March 13 where her husband Jimmy Norius said the goal is for her to compete in the bikini and figure classes.
"We're trying to have her break the record by becoming the first competitor to get six awards in the same show," Norius said. "She got four awards in the show last year when she competed for the first time."
In her debut at the classic last March, Decius-Norius competed as a bikini model, capturing the bikini A short class divisional title and was second in both the bikini masters over 35 and the bikini novice, while getting third overall in the bikini open class.
"This year, we decided that it will be a better year. I sense it in the air," said Norius, the personal trainer of his wife. "She is trying to earn her pro card this year so we decided to get her in as many shows as we can.
"The more she competes, the more she will get sharper and the judges will be able to see and recognise her. We will determine which category the judges like her more at when she competes in this show."
Decius-Norius, who also got a chance to represent the Bahamas for the first time at the Central American and Caribbean Championships, will compete in the bikini short class, bikini over-30 and bikini over-35 and the figure novice, figure short class and figure over-35.
"I'm looking forward to her making the final in all six of them and making the top three in all of them," Norius said. "The way she's been training over the past few months, I know we'll be coming back on Bahamasair or JetBlue with six trophies.
"No one has ever done it before, not even in any show in the US. She wants to do better than me when I got four trophies in one show in the men's physique open, men's physique masters over-40, bodybuilding middleweight and masters with first place in all four of them in South Beach, Miami, Florida in 2016."
With a cross-over body that can compete in both categories that she's entered in, Norius said they are not anticipating winning the overall title in both of them, but she will make her presence felt as a contender.
Decius-Norius, a native from Italy, will be entered in the
Although she's chartering unfamiliar territory, Decius-Norius said she's looking forward to the challenge ahead of her.
"I know it's going to be stressful, six times on the stage, to change into a suit, but I know I can do it," she said. "I will only be stepping on the stage one time for each class, so I know I can do it."
Despite the coronavirus pandemic restrictions, Decius-Norius said her husband has made sure that she gets in the workout in their backyard, while she takes care of their dietary nutrients in the kitchen.
"He's very, very tough training me in the backyard and in the sun," she pointed out. "I feel good about my training. I know I am in good shape and will do very well."
Decius-Norius said her dream is to one day go home and compete in Italy in front of her family and friends for the first time and also to join Norius in securing her pro card.
"I know I can't eat any pizza or ice cream after this show because I have to continue my diet I have another show in June," she stressed. "I have to stay focused and physically prepared."
Her performance in Florida at the CJ Classic will certainly determine what level of fitness she's in for the long haul this year.