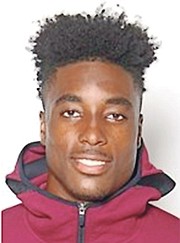 By RENALDO DORSETT
Tribune Sports Reporter
rdorsett@tribunemedia.net
MIKE Strachan introduced himself to the Los Angeles Chargers fanbase with the confidence that has scouts bullish on his potential and continues to propel his rise up several 2021 NFL draft boards.
Strachan, the 6'5" 225-pound wide receiver, appeared on the Chargers Brawl Podcast to discuss his expectations for his upcoming pro day and his possible fit with the organisation.
"I'm definitely the best in the draft, the best receiver coming out," Strachan said. "With me knowing what I can do and me knowing that whatever team picks me up - I'll be under the best system, I'll be with the best coaches, they'll be able to turn me into a receiver that's even better than what I am now."
Strachan recently met with the Chargers virtually as a part of his scouting process. The 86th edition of the NFL draft takes place April 29 - May 1, 2021.
"It was good speaking with the team. We spoke more about background stuff. Honestly, I can fit in well with anyone, any system. Wherever I go I want to be productive and add value," he said.
"If I have a good quarterback to work with I can fit in anywhere and with the Chargers having [Justin] Herbert, he's a young quarterback and I can build a good connection and good chemistry. We will be able to use our strengths to make that team a better team and hopefully win a Super Bowl because that's my goal in my years of playing."
The former Charleston Golden Eagles wide receiver, who patterns his game after Julio Jones and Calvin Johnson, said he is eager to be an asset to any organisation.
"The league could be mine, I've been preparing for this all my life. I'm going to add so much value to a team and that's something that I've been doing everywhere I go, I've always been productive.
"Everywhere I've gone I've won championships on every level. Whoever is out there to get me, we will win a Super Bowl together because that's my number one goal," he said. "Me coming into any organisation I'm a person that's motivated but is also easy going, someone that's going to be coachable. I always focus on the little things. The reason I'm here today is me being coachable and taking in everything from the people that have trained me."
At the collegiate level, Strachan was a two sport star that also has a personal best time of 47.3 secs in the 400m.
"It's awesome being a football player but also having the opportunity to run track, that was big for me," he said, "The reason why I did track growing up was just to help speed for football, I always wanted to keep that tradition going from high school straight to college because I knew this time would come and speed would be a big thing for me."
With his speed, size, and pre game preparation Strachan, rewrote the Division II record books as a junior and was listed among Yahoo! Sports' top "small school" prospects for the upcoming draft.
"What I do is use my strength to my advantage. Going up against any type of defensive back, I know my strengths and I know their weaknesses based on the preparation and studying them before every game," he said, "I learn what they like to do if they like to attack more and that gives me an edge. I learn their tendencies, how they come out their break, if they are physical on the press, I look at all these things so when gameday comes I'll be ready to go."
Earlier this month, Strachan received an invitation to the 2021 Draft Scouting Combine. This year's combine will not follow the traditional format due to COVID-19, but Strachan will still have an opportunity to showcase his skills for each of the 30 NFL franchises. The combine usually features over 300 of the top college prospects at a four day event in Indianapolis, Indiana where they showcase their skills in on field workouts, medical tests, psychological tests, and interviews. In the 2021 combine, the on field workouts will be conducted in a series of "pro day" camps, while interviews and tests will be conducted virtually.
Strachan's pro day will take place at West Virginia University on March 18. His goals are to record a 4.3 secs 40-yard and a 38" vertical.
"A 4.3 - 40, I feel like I can get it, especially based on the times I've been showing and getting at practice, that's a reachable goal for me," he said, "I'm also looking for anywhere from 38" inches and up on my vertical. I'm always working on my jumping and it's a strength of mine, being able to go up and get the ball, being able to attack the 50-50 balls and come down with it has always been a strength of mine."
Strachan signed with DEC Management in November and also recently joined The Society brand and marketing agency.
In his junior season, Strachan rewrote the record books and boosted his stock for pro scouts. He was named an NCAA Division II Second Team All-American by the American Football Coaches Association and to the 2019 Don Hansen NCAA Division II All-America team. He finished with 78 receptions for 1319 yards and 19 touchdowns in his final season with the Golden Eagles. He finished his career with a share of the all-time Charleston touchdown record of 27. He set new school records, led the Mountain East Conference in each category and was second in all of DII in both receiving yards and touchdowns. He also achieved Division II Top-10 marks for the 2019 season in receiving touchdowns (second), receiving yards (sixth), receptions (ninth), and receiving yards per game (fifth).