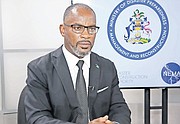 By RENALDO DORSETT
Tribune Sports Reporter
rdorsett@tribunemedia.net
IRAM Lewis, the new minister of youth, sports and culture, has outlined his platform for the appointed post, which includes objectives at immediately impacting the sporting community.
Lewis, the Member of Parliament for Central Grand Bahama, lists the reintroduction of the Bahamas Games and the development of a cohesive relationship between his ministry and its affiliated groups as principal goals.
"As a former athlete, a constant supporter of our young people and their potential, and as someone committed to our creative cultural communities, I am excited to take on this responsibility," he said.
"I also understand the vital role that sports plays in the holistic development of young people and our communities. In keeping with the recent announcement by the Prime Minister, I look forward to the reintroduction of the Bahamas Games.
"I pledge to work in a spirit of respect and courtesy with those in my ministry and the various youth, sports, and cultural groups with whom we engage. I will listen to advice. I will work to bring people together to advance causes that help our athletes, young people and cultural groups."
Lewis is a former president of the Grand Bahama Amateur Athletic Association, former vice president of the Bahamas Olympic Committee, and a two-time Olympic sprinter, who represented the Bahamas in the 1996 games in Atlanta, Georgia and 2000 in Sydney, Australia as a member of the men's 4 x 100 metre relay team.
He most recently served as minister of state for disaster preparedness.
"I thank the Prime Minister, the Most Hon Dr Hubert Minnis for his confidence in recommending my appointment as Minister of Youth, Sports and Culture. I thank my predecessor in office, the Hon Lanisha Rolle for the work she did at the Ministry. I also wish to thank my colleagues at the Ministry of Disaster Preparedness, Management and Reconstruction, the Disaster Reconstruction Authority, and NEMA for their support during my tenure as Minister of State," he said.
"I look forward to engaging with the cultural and creative arts community in the ongoing development and promotion of Bahamian arts, culture, and heritage. Because the development of our young people is at the heart of national development, I will be a champion for Bahamian youth and young adults."
Lewis is the third minister of youth, sports and culture to serve under the current Free National Movement administration.
Michael Pintard was initially appointed but was relocated to the Ministry of Agriculture and Marine Resources in 2018.
Rolle went on to fill the position and become the country's first woman appointed as the Minister of Youth, Sports and Culture.
"The Bahamas is a great little country. Our people have so much talent. My focus will be on helping nurture that talent in a spirit of unity and togetherness," Lewis said. "I thank my family, friends, colleagues and the people of Central Grand Bahama for their continuing support. I pledge my best to the Bahamian people and will continue to honour the privilege of public service. With gratitude, I thank Almighty God for his blessings and pray those blessings on our country."