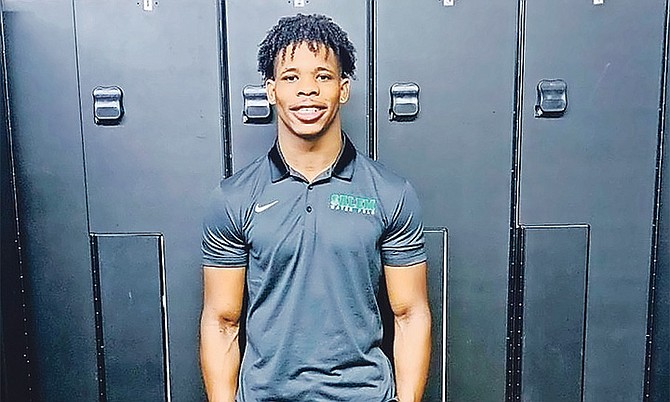 By BRENT STUBBS
Senior Sports Reporter
bstubbs@tribunemedia.net
ADD the name Saequan Miller and water polo to the list of sporting disciplines that Bahamian athletes are now excelling in at the collegiate level.
Miller, a red-shirt sophomore, is a utility player for the Salem University Tigers men's water polo team. They concluded their weekend on Saturday evening falling to Mercyhurst 20-7 after suffering a 15-7 decision to Gannon earlier in the day.
Salem fought hard in all of their games during the weekend, but slow starts and being shorthanded took their toll on a young Tigers team.
Miller, who stands at 5-feet, 11-inches, made his biggest impact of the season during the weekend, notching two goals in game one of the day and came back against Mercyhurst and adding two more. Miller also had two steals against Mercyhurst.
His coach, Robert Bullion, was quite impressed with his performance.
"Obviously, this has been a difficult year for everyone with trying play, a delayed and shortened season in the NCAA due to COVID-19," he said. "We have had to deal with isolations, quarantines, and pauses throughout the season. Saequan, being an upperclassman on the team, has been forced into a role where the guys need to look up to him."
The 21-year-old Miller brought that level of maturity from his role here in the Bahamas as a graduate from CR Walker Senior High School where he was named the male athlete of the year in his senior year as the leading goal scorer.
He also competed for the junior national team, serving as the captain for three years and he was the MVP in 2018. The reason Saequan chose Salem was the "strategic and flexible academic schedule, along with the diverse and hardworking water polo team."
After graduating from Salem, Miller plans on attending dental school. But for now, he's enjoying the role he's playing as a member of their water polo team.
"So far, it's been a rough season. We started to play this weekend, but our first game was our worst game because we were down two players and we played four versus six," said Miller, whose team-mates were affected by COVID-19.
"We played a man down the three games we played, but it didn't stop my performance. Prior to those games, I wasn't sure that I would have been able to play because I missed a few practices and they thought that I would have some health issues too."
COVID-19, Miller said, has really messed up their routine and they had to be coached virtually in practice because every time a case came up, they had to be quarantined.
"This year has been one for the books, but I'm taking every game as if it is going to be my last," he pointed out.
"So, I just go out there and play each game as if it's my last."
With the team being short-handed, Miller said they have not produced the types of performances that they are capable of, but he's just delighted to be playing.
"We just have to remember the circumstances that we are facing, we still have to play team polo," said Miller, noting that the water doesn't make a difference who is in it. "If we play with one, two, or three players, it doesn't matter. "We still have to go into the pool and play water polo. There is no game plan right now because the whole world is facing this same situation, so I won't be discouraged by it. I will still play the water polo that I know."
After making the transition from CARIFTA water polo to college water polo in his freshman year, Miller said he has made the necessary changes, but he can't wait to have their full team back so that they can play to their full potential.
"I think the other teams have capitalised on our differences in the number of players that we have, but the goal is still the same for us," he said. "We know we can play better, so it's something that we have to get used to right now."
Bullion said Miller has been a good student and role player on the team, but he is playing a bigger role this season, especially as they prepare for their championship this coming weekend.
Although they have lost the three games they played so far, they earned the right to play in the postseason as the league champions last year.