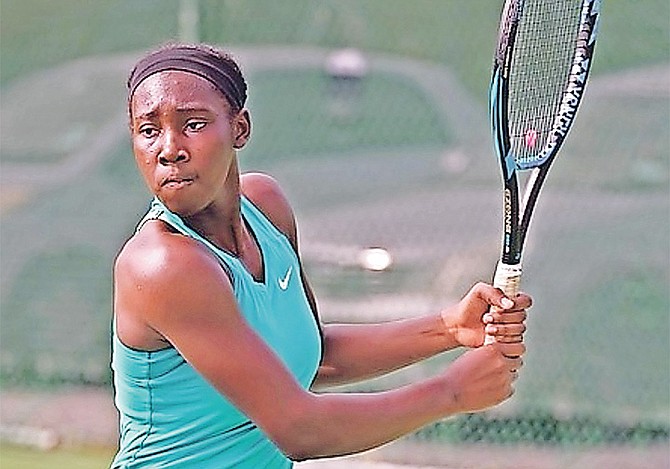 SOPHOMORE Elana Mackey, making her transition from the University of the Bahamas to Mars Hill University, is hoping to contribute to both the Lions women's tennis and track and field teams.
The middle-distance runner from Temple Christian Academy, who was one of the top female players in the Bahamas Lawn Tennis Association, has made both tennis and track teams at Mars Hill in North Carolina.
Although she's just getting acquainted with both teams, Ross Sons, the head men's and women's tennis coach, said he's looking forward to her participation in the sport.
"I have not had much chance to be around Elana so I will answer the questions the best I can. With her being involved in track and field, I think it will only help her with all aspects of the game and help her improve in every area," he said.
"My expectations from her are to compete hard and give 100 percent no matter where she is in the lineup. I think she will be a great addition to the team as a player and as a person."
Mars Hill women's tennis team (0-2, 0-1 SAC) lost to Anderson (2-0, 1-0 SAC) in their South Atlantic Conference home opener by a score of 7-0 on Saturday, February 20.
Prior to that, they fell to Lees-McRae (1-0) by a score of 5-2 on Wednesday, February 17 in their 2021 home opener.
Mars Hill, a Division II school in North Carolina and playing out of the South Atlantic Conference, returns to action on Thursday, February 25 when they are slated to face Lenoir-Rhyne on the road.
The BLTA's public relations office congratulated Mackey on making both teams at Mars Hill.
She represented the BLTA on the Bahamas' Fed Cup team, now the Billy Jean King Cup.