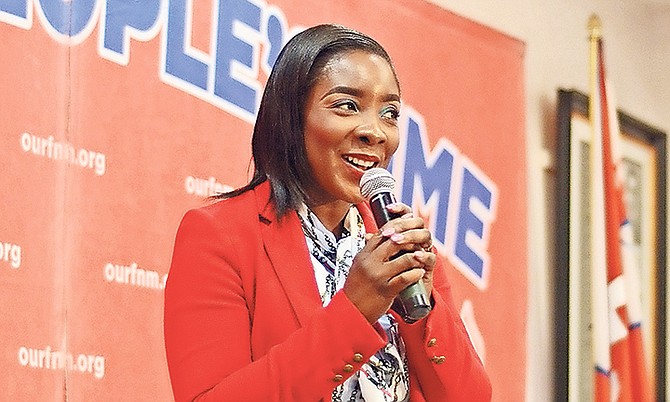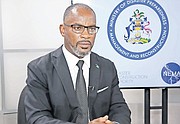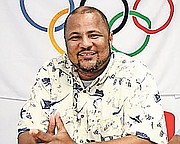 By BRENT STUBBS
Senior Sports Reporter
bstubbs@tribunemedia.net
While many declined to speculate on what may have led to her resignation, some of the sporting leaders welcomed Olympian Iram Lewis, who will replace Lanisha Rolle as the new minister of youth, sports and culture.
The Cabinet Office thanked Rolle for her service as it announced that Lewis will demit his post as minister of state in the Ministry of Disaster Preparedness, Management and Reconstruction, which remains under the ministerial portfolio of the prime minister, to assume his role at the Ministry of Youth, Sports and Culture.
Bahamas Olympic Committee president Romel Knowles said he was taken aback and surprised by Rolle's resignation, but at the same time, they welcome Lewis, a former collegiate of his as a vice president of the BOC, whom he feels will fit very well in his new role as one who understands the plight of sportsmen in the country. "In some quarters, there were those who were asking for or hoping that there would be a cabinet shuffle to relieve the minister of her duties with responsibilities for youth, sports and culture," Knowles said.
"The antics of having to stand when she enters a board meeting is not one that sports leaders were very comfortable with, nor is it an acceptable norm for us. And some that caused some sort of apprehension about the type of leadership that the minister displayed."
Knowles said when one enters public life, they should have a "passion to serve and not be served" and so it is an unfortunate occurrence as the Prime Minister (Hubert Minnis) has accepted her resignation.
"I can tell you that in all sporting quarters in the community, we are elated that a young man, who comes from among us, understands our language, understands our expectations, understands who we are and what our responsibilities are, now take the helm at the Ministry of Youth, Sports and Culture," Knowles continued.
"Iram was an athlete. He was an Olympic athlete; he was an executive of a national local federation and he served at the highest level as a Vice President of the Bahamas Olympic Committee. So, we regard him as being from among us, like us and so the sporting community today welcome him with open arms."
Lewis, 54, is a former president of the Grand Bahama Amateur Athletic Association and a two-time Olympic sprinter, who represented the Bahamas in the 1996 games in Atlanta, Georgia and 2000 in Sydney, Australia as a member of the men's 4 x 100 metre relay team.
In Atlanta, Lewis, Minister of Health Renward Wells, Dwight Ferguson and Andrew Tynes got disqualified. In Sydney, Lewis was a member of the team that included Wells, Dominic Demeritte and Wellington Saunders that placed 23rd overall.
He now heads the ministry that includes another Olympian Timothy Munnings, who serves as the Director of Sports. While he declined to speak on the departure of his former boss or welcome his old national team-mate as his new boss, he would only say that "the work of the ministry, in particular, the Department of Sports, will continue to serve its shareholders."
One of those shareholders, the Bahamas Association of Athletic Associations, seemed to have been embroiled in tumultuous times under Rolle, but president Drumeco Archer said it's quite the contrary as he too welcomes Lewis on board.
"We, in sports, try to maintain a level of stability to ensure that sports continue to run because this is really a business and it is our hope that we can find a quick resolution to this to regain a life of normalcy and to get back on track," Archer said.
As the president of the BAAA, Archer said he never meant to be a "thorn in anyone's side or to be contentious," but he just wanted to make sure that he did the best job in representing his constituents, who are his coaches and athletes.
"So, I never saw it as a conflict. I just saw it as a part of the work that I do," he insisted. "I think we should dismiss the thought that I had a tumultuous relationship with the ministry. I don't. In fact, I foster a very good relationship with the ministry."
Archer, however, said the BAAA is happy to welcome Lewis as the new minister.
"I worked closely with Iram in previous administrations, and we had wonderful working relationships and I think that bodes well with our familiarity in our relationship," he stressed. "We look forward to working closely with him in his new role as the new Minister of Sports."
Just this month, the Bahamas Basketball Federation was entangled with the ministry over securing additional funding to send its men's national team off to to the third and final leg of the FIBA 2022 World Cup Qualifier.
President Mario Bowleg, who traveled s the coach of the team that fell short in qualifying after losing its two games over the weekend to the United States of America and Puerto Rico in Puerto Rico, said he hopes that Lewis is more knowledgeable about sports and the impact it can have on the country than Rolle did.
"Sports emerges as an important component of the socio-economic development of a country," Bowleg said. "The active participation in sports improves community health and productivity and reduces medical expenses, provides discipline in character and generates great leaders."
Another sporting body that their relationship will be heightened in the transition is the Bahamas Baseball Association as they wait for the completion of the new baseball stadium.
"It's always a sad thing when one has to resign in the midst of negotiations, but it is what it is," said BBA president Sam Rodgers Sr. "I don't know her reason for the resignation at this time, so there isn't nothing I can say on the matter.
"But I hope that whoever takes over will be a plus and not a negative. The first phase is almost nearing its completion. There are two other phrases to go, so we hope that we can sit down with the new minister and have talks with them on how best we can complete the stadium because we have some plans for that complex."
Rodgers Sr said he's taking a wait-and-see approach on Lewis because he only heard about his exploits in track and field in Grand Bahama and so he can't pass any judgment on whether or not he is good for sports. But the BBA, he said, is willing and ready to work with Lewis for the common good of the sport.
Bahamas Swimming Federation president Algernon Cargill, also weighing on the situation, said it's sad "to see a minister leave, particularly a minister, whose intent was to help young people.
"I don't know the circumstances, but I do know that in the federation wish her the best in whatever she decides to do moving forward," he said. "The federation enjoyed a very positive relationship with her, and we didn't have any negative interference from her."
As for Lewis, Cargill said they are looking forward to working with Lewis, who is an experienced Olympian and has his heart in sports and young people.
"He will make an excellent minister," Cargill stated.
Rolle, the Member of Parliament for Seabreeze, was the only woman serving in the Cabinet of the Free National Movement. She was also the first woman appointed as the Minister of Youth, Sports and Culture in 2018.
Rolle took over from the initial minister Michael Pintard, who was moved to the Ministry of Agriculture and Marine Resources in a shuffle by PM Minnis one year after they came to power in 2017.
Lewis, the MP for Central Grand Bahama, will become the third person to take control of the ministry under the Minnis administration.