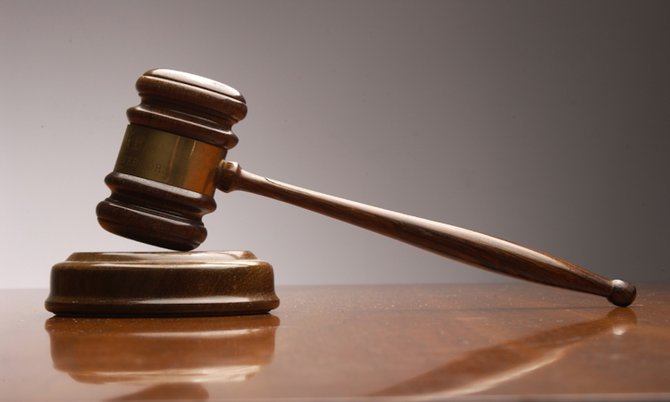 By FARRAH JOHNSON
fjohnson@tribunemedia.net
A 40-year-old man was ordered to pay $300 or spend two months in prison after he assaulted his room--mate and his room-mate's girlfriend last weekend.
Aaron Armbrister appeared before Magistrate Sandradee Gardiner charged with two counts of assault after he admitted to getting into an altercation with John Bousfield and Nicole Russell on May 16.
He pleaded guilty to both charges and was fined $150 or two months in prison for each count, which the magistrate ordered to run concurrently.
Prosecutor Lakesia Moss said around 8am on the day in question, Ms Russell said she had left Mr Bousfield's residence to get some food for the two of them. When she returned, she said she saw Armbrister attacking her boyfriend. Ms Russell told police when she tried to separate the two, the defendant grabbed her neck and choked her.
When he filed his complaint, Mr Bousfield told officers he was at the apartment he shares with Armbrister when the defendant approached him and asked him why he had moved his things from the balcony, the court was told. Mr Bousfield said when he told Armbrister he did not know what he was talking about, Armbrister grabbed him by his shirt and attempted to search him. Acting on this information, police arrested Armbrister.
When he was interviewed at a nearby station, he told officers that he had placed $308 on the balcony of the residence he was sharing with Mr Bousfield. He said he left the apartment and when he came back, he saw Ms Russell holding a tank that belonged to him. Armbrister said when he asked Ms Russell where the rest of the things were, she denied knowing so he grabbed her shirt and searched her. He also admitted to doing the same to Mr Bousfield, but claimed that Ms Russell had also jumped on his back.
During the hearing, Armbrister was represented by attorney Phillip Lundy. He told the magistrate that his client was remorseful and asked the court for mercy since Armbrister pleaded guilty immediately and did not waste the court's time.
As a result, Magistrate Gardiner fined Armbrister $300. She also told him that he could not just "go around attacking people".