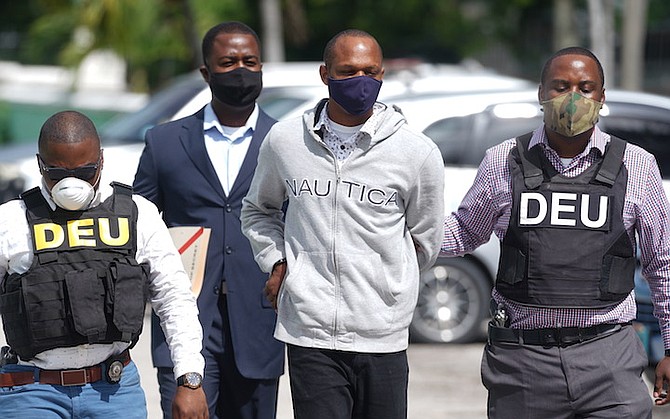 By FARRAH JOHNSON
fjohnson@tribunemedia.net
A BAHAMAS Department of Correctional Services officer was sentenced to 15 months in prison in Magistrate's Court yesterday, after he pleaded guilty to marijuana possession and drug possession with the intent to supply.
Delroy Barr, 23, appeared before Deputy Chief Magistrate Andrew Forbes charged with possession of Indian hemp and another two counts of marijuana possession with the intent to supply after officers seized over 12 ounces of drugs from him on June 22.
He pleaded guilty to all of the charges and was sentenced to six months at the Bahamas Department of Correctional Services for count one and 15 months at BDCS on count two and three. All of the sentences were ordered to run concurrently.
Prosecutor Lincoln McKenzie said around 6.30am on the day in question, officers at the prison approached Barr and told him that they suspected that he was in possession of dangerous drugs and firearms. As a result, the officers informed the defendant that they would be conducting a search in reference to the same. Sgt McKenzie said during their investigation, Barr pointed out an electrical fixture box in the maximum security unit which contained four packages containing 2.78 ounces of suspected marijuana.
He also said officers found 1.18 ounces of suspected marijuana in the centre console of Barr's vehicle. Sgt McKenzie added that when officers searched Barr's home, they recovered 9.34 ounces of suspected marijuana that he had stored in his linen closet. Officers also seized $401 which they believed were funds Barr had received from selling drugs. He was subsequently arrested and taken to a nearby station where he admitted to the offences.
During the hearing, Barr was represented by attorney McKell Bonaby. He told the magistrate that his client had cooperated with officials at the onset of the investigation, since Barr told the officers where the drugs were. He also noted that the quantity of marijuana Barr was found with was on the "low end of the spectrum" and claimed that the defendant had the drugs for his personal use and had no intention to distribute them.
When given an opportunity to speak, Barr also told the magistrate that he "took full responsibility" for his actions and understood that what he did was wrong. In response, Magistrate Forbes said while he considered Barr's age and the fact that he did not have any previous convictions, the fact that he was a law enforcement officer that broke the law when other prison officers who committed the same crime had been sent to jail, proved that he acted with some level of arrogance. He subsequently sentenced Barr to 15 months behind bars.