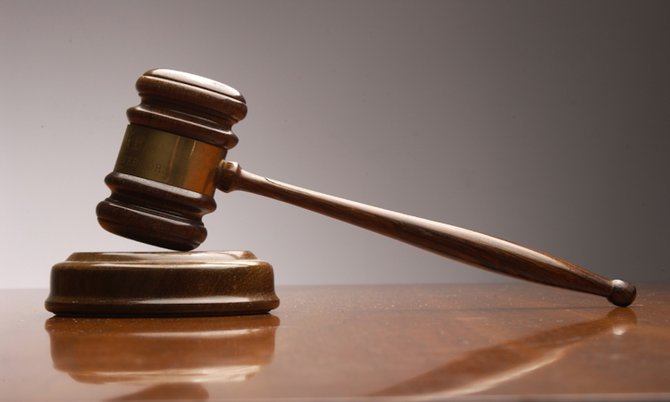 By FARRAH JOHNSON
Tribune Staff Reporter
fjohnson@tribunemedia.net
A 26-year-old man was sentenced to three months in prison after he admitted assaulting another man he claimed was talking to his girlfriend "behind his back".
Rudolph Roberts was accused of assaulting Rino McDonald with a knife on May 12. He pleaded guilty during a hearing before Senior Magistrate Carolyn Vogt-Evans yesterday and was sentenced to three month behind bars.
The court heard the two men were involved in an argument on the day in question. The prosecution said during the ordeal, Roberts assaulted Mr McDonald with a knife, injuring his shoulder. Roberts was subsequently arrested and taken to a nearby police station. During an interview there, he told officers he injured Mr McDonald because he was "trying to talk" to his girlfriend.
When given an opportunity to speak, Roberts told the magistrate the incident occurred because Mr McDonald was "telling his girlfriend things behind his back". He also claimed the complainant told his girlfriend he was cheating on her and insisted he had a habit of messaging her and feeding her lies.
Still, after listening to the defendant's plea in mitigation, Magistrate Vogt-Evans told Roberts while she understood why he may have gotten aggravated, he had "no right" to act upon his feelings.
During the hearing, Roberts was also charged with assaulting a man with a pistol and threatening to kill him on May 11. He was further accused of unlawfully entering a woman's house and assaulting her on May 16. Stating the two people that filed the assault charges against him were his child's mother and her brother, he denied all of the allegations and Magistrate Vogt-Evans adjourned the matter to September 24 for trial.
Roberts was also charged with violating the national curfew after the prosecution alleged he was found on Claridge Road around 10.21pm on July 21. He pleaded not guilty to that charge as well and the matter was also stood down for trial.
Yesterday, another man appeared before Magistrate Kara Turnquest-Deveaux for similar offences.
The 63-year-old was charged with assaulting and threatening to kill his wife on July 21. The court heard the complainant was at home with the defendant when he accused her of having sex with her brother and began shouting: "I'll (expletive) kill you" to the woman. According to the prosecution, the man then grabbed the woman by her neck and started to punch and choke her.
As a result of the woman's complaint, the defendant was arrested. During an interview with police sometime later, he denied the allegations.
After accepting the defendant's guilty plea, Magistrate Turnquest-Deveaux convicted him of the offences and placed the man on one year probation for issuing threats of death and three months probation for assaulting his wife. Magistrate Turnquest-Deveaux also ordered the man to attend counselling for anger and substance abuse. The defendant returns to court next week to show his proof of registration.