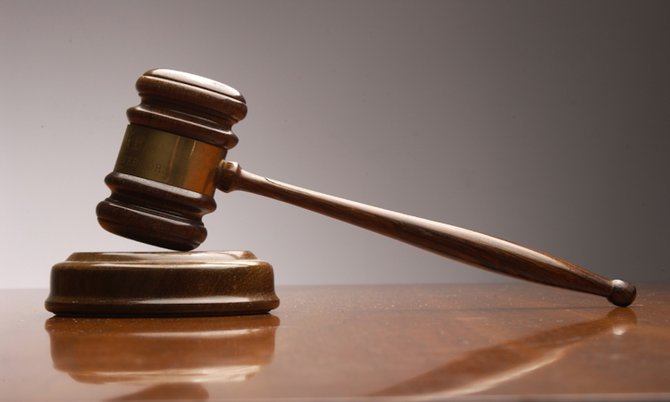 By NICO SCAVELLA
Tribune Staff Reporter
nscavella@tribunemedia.net
A MAN told a court yesterday how he tried to evade a hail of bullets only to be shot twice during the 2013 Fox Hill mass shooting.
Leroy Taylor said he first thought the gunfire was the sound of firecrackers, and only realised the sounds were bullets when he heard people screaming. The mayhem took place while he was enjoying his birthday at Freedom Park on December 27, 2013.
Mr Taylor said he only had time to duck behind the wall he was sitting on to evade the gunfire, but ended up getting shot twice in the process.
"I was scared and didn't know what to expect. In pain, confused," he said, adding that he had "no idea" why he was shot at.
Mr Taylor's testimony came during the trial of Peter Rolle, Jermaine Curry and Justin Williams concerning the 2013 shooting at Freedom Park before Justice Deborah Fraser.
Williams, Rolle and Curry are accused of murdering four people - Claudezino Davis, Shaquille Demeritte, Eric Morrison and Shenique Sands on that date. They are also charged with attempting to murder Mr Taylor, Janet Davis, Samuel Ferguson, Chino Davis, John Davis, and Jermaine Pratt.
According to reports, around 6pm, occupants of a small, dark vehicle opened fire in the area just behind the basketball court where several people were gathered.
Davis was pronounced dead on the scene while 10 others were taken to hospital. Demeritte, Morrison and Sands later died in hospital of their injuries.
Taking the witness stand yesterday, Mr Taylor said around 4.30pm on the date in question, he went to Freedom Park to hear Junkanoo results and have drinks with family and friends.
According to Mr Taylor, he ended up sitting on a wall just opposite the Junkanoo shack of the Original Congos. People were listening to a car radio for the Junkanoo results, he said.
Sometime around 6pm, he heard what sounded like "firecrackers". He saw people running and screaming and ducked behind a wall for cover.
Mr Davis said he got shot in the right leg, as well as his hip. Blood started running down his leg, he said.
Mr Taylor said shortly afterwards, he heard someone say "they gone, they gone". People were crying and screaming at the time, he said.
Mr Taylor said he was assisted to a truck, and was taken to the hospital with about five other people. About 15 to 20 minutes after arriving at the hospital, Mr Taylor said he passed out and didn't regain consciousness until he was admitted into surgery.
Mr Taylor said he was discharged the following day.
While being cross-examined by defense attorney Sonia Timothy, who represents Peter Rolle, Mr Taylor said he did not see anyone with a firearm, nor did he see a car traveling on the nearby Reeves Street during the incident.
While being cross examined by defence attorney Geoffrey Farquharson, Mr Taylor was asked if he told police that the shooting might have had something to do with a previous incident. Mr Farquharson said his question was based on Mr Taylor's assertion that he did not know why he was shot.
In response to the attorney's question, Mr Taylor said he remembered hearing other people saying that the shooting had something to do with an incident the night before. However, Mr Taylor told Mr Farquharson that he never found out who had been shot the night prior.
Mr Farquharson, who represents Justin Williams, asked Mr Taylor if he knew a man by the name of "Kitty" Morrison. Mr Taylor said the name didn't ring a bell, but said if he saw that person's face he may be able to recognise him.
Mr Farquharson then asked Mr Taylor if he knows a person named Jacoby Brown. Mr Taylor's response suggested he did not. However, Mr Farquharson asserted that Mr Taylor knew Mr Brown was Morrison's younger brother and that the entire Fox Hill community knew when he was killed.
Then, Mr Farquharson asked Mr Taylor if he knew a man by the name of Deslin Nichols aka "Limbo" who was shot and killed in 2011. However, when Mr Taylor said he does not know Nichols, Mr Farquharson insisted that and "everybody in Fox Hill" heard and knew of when he was killed.
Mr Farquharson further asserted that Mr Taylor knew there was a "turf war" or "dope war" being waged between two groups of drug dealers in Fox Hill. When Mr Taylor denied the assertion, Mr Farquharson questioned how he could be "the only man in Fox Hill" who didn't know that when the newspapers reported every time someone was killed in the community.
Mr Farquharson asked Mr Taylor if he knew people by the name of "China", "Emperor", and the "Ferguson boys", namely "Tank Dog" and others. Mr Taylor said he knew the name "Emperor", but denied knowing the others.
The matter continues.