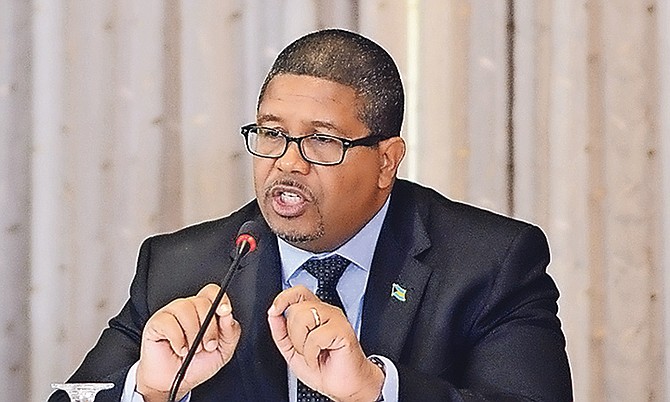 * Juggling liabilities as revenue dries up
* DPM: 'An uncomfortable position to be in'
* Chamber urges VAT quarterly filing 'deferral'
By NEIL HARTNELL
Tribune Business Editor
nhartnell@tribunemedia.net
The government is performing a high-wire juggling act with its finances by "robbing Peter to pay Paul" to meet critical liabilities as they become due, the deputy prime minister revealed yesterday.
K Peter Turnquest told Tribune Business that the Minnis administration is being forced to switch scarce resources around to meet key spending priorities and commitments as a result of COVID-19 having reduced revenue flows to a trickle.
Acknowledging that it was "an uncomfortable position to be in", Mr Turnquest said the government is also deferring obligations where it can as it seeks to ride out the remainder of the 2019-2020 fiscal year ahead of the May budget.
Questioned by this newspaper about the pandemic's impact on the government's own income, he replied: "I have to ask you: What revenue? It doesn't take much to figure out that we've had a significant deterioration in tax collections at this point, which is why it's important that those who are able to make their payments do so.
"Again, we have to continue to rob Peter to pay Paul. It's just the reality of where we are, and whenever you're in those circumstances it's uncomfortable but that does not mean the liability goes away. It means you defer it, and that's always an uncomfortable position to be in."
Mr Turnquest said he could not provide figures for the revenue decline, but it comes as little surprise given the tourism shutdown and subsequent economic lockdown produced by COVID-19. The Government's income is derived from economic activity, primarily consumption, via VAT and border taxes; tourism; real estate; and Business Licences, most of which has come to a complete halt.
He added that the Government was preparing for "a very low revenue year" in 2020-2021 due to COVID-19's lingering economic fall-out, with the Ministry of Finance asking all ministries and public sector agencies to scour their budgets for spending cuts and savings during both the remainder of this fiscal year and next.
"We have asked the ministries and agencies to review their budgets and look for non-discretionary expenditure that we might be able to once again defer or reprioritise, particularly this coming year given what we anticipate will be a low revenue year," Mr Turnquest added.
"The same applies to the remainder of this fiscal year. We're asking the agencies to be as conservative as possible as we make our way through this period." Yet while The Bahamas may be facing further fiscal austerity, the deputy prime minister blasted the Opposition's leader for causing unwarranted "anxiety" by alleging that the Government was planning to cut civil service salaries.'
Philip Davis, in a late night statement on Wednesday, said: "I have learned today that the Government is proposing matters which, in fact, might severely reduce domestic spending and demand. There is a proposal to force cuts in all ministries, including possibly the salaries of public servants."
But Mr Turnquest, vehemently rejecting the claim, said: "The Government of The Bahamas has not put forth any proposal or recommendation for a reduction in the public service payroll. It is unfortunate that the leader of the Opposition has sought to add additional anxiety to a country that is already fearful of the health crisis, and what that may mean for their families, as well as the financial crisis.
"I don't know what leader operates off rumours, but I guess that says more about him. The Government of The Bahamas has made no such recommendation. Certainly the Ministry of Finance has not, and I don't believe the Ministry of Public Service has made any recommendation with respect to trimming salaries at this time."
Cutting the $700m-plus annual civil service wage bill at this time would likely be unwise given that it would likely drop consumer spending to almost-negligible levels. The public sector, and its 20,000-plus employees, remain one of the few consistent sources of aggregate demand left in The Bahamas given the mass lay-offs and struggles in the private sector.
The latter, through the Bahamas Chamber of Commerce and Employers Confederation (BCCEC), last night urged the Government to defer the upcoming April 21 VAT filing/payment for quarterly filers to provide such micro, small and medium-sized enterprises (MSMEs) with the cash flow and financial breathing room to sustain themselves until the lockdown ends.
Jeffrey Beckles, the Chamber's chief executive, said of the private sector's rationale for the plea: "It's going to give them an opportunity to breathe. We want to exploit opportunities as far as we can go to give them the tools to get through this downturn. That's what the Chamber has committed to do. We wish we had a magic potion, but until that time we have to figure out the best way to give them a fighting chance and go from there."
The Chamber, in a statement, said Mr Turnquest had promised to give the "deferral" call for quarterly VAT filers "serious consideration" but he was unable to make any commitments. The Government, too, will be desperate for every cent of revenue it can get, with the major contributors likely to be food stores, pharmacies, gas stations, communications firms and others exempt from the lockdown.
However, many companies are likely to seek a "credit" from the Government as their VAT 'input' payments will be greater than those on their 'outputs' due to their closure and absence of any revenue streams.
"The Novel Coronavirus (COVID-19) is a health and economic crisis of epic proportions," the Chamber said, adding that "businesses are faced with the difficult decision of having to reduce staff and manage operational costs, while the Government of The Bahamas continues to work on keeping its citizens and residents safe in the face of the spread of COVID-19.
"At the time of the initial VAT deferral [in March] no one knew how long businesses would not be allowed to operate. In the interim, businesses have continued to pay employee salaries, company utilities and rent. They also had to pay vendors for goods shipped prior to the shutdown, customs to clear shipments from the docks, additional security services to protect closed premises, along with other expenses.
"Given the fiscal state of many of these MSMEs, it is the Chamber's strong recommendation that the Government of The Bahamas defer the payment of VAT quarterly filings. This will assist the business community with its cash flow during these challenging times and, in some cases, will prevent their permanent closure."
The Chamber's statement came hours after the Department of Inland Revenue issued its own release reminding the private sector that VAT filings and payments for March are due on April 21.
"Although some businesses do not have access to all their latest records at home, due to the COVID-19 related closures, they are able to file VAT returns based on an estimate of turnover for the period and submit amendments later," the Department of Inland Revenue added.
"While there will be no penalty for businesses who submit amendments for filings during the emergency order, the penalties associated with late filings are still in place." It said it was still continuing to process Business Licence applications and renewals; real property tax payments; and tax payment plans, as well as stamping documents for VAT and dealing with first-time home buyer exemptions.
Gaynell Rolle, the Department of Inland Revenue's acting comptroller, suggested many companies would likely qualify for the Government's $60m tax credit/deferral initiative geared towards supporting medium-sized firm payrolls as around 50 percent of firms owe Business Licence fees.
"We want to assist as many businesses as possible and encourage businesses to apply online," she said. "Our records show that almost 50 percent of businesses have outstanding business licences. Not all of these are eligible for the tax credit or deferral. However, we encourage all businesses to reach out either to establish a payment plan or to apply for the tax relief programme."