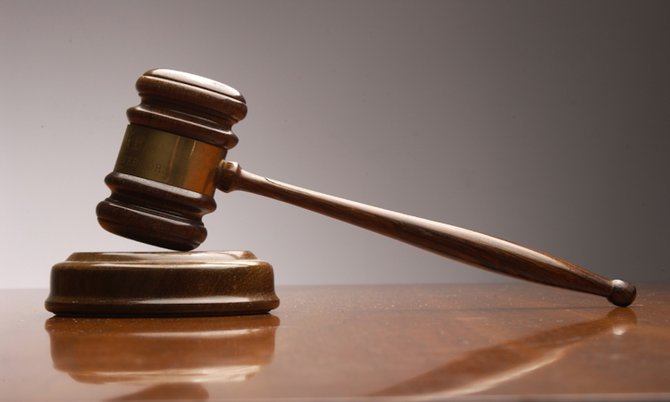 By NICO SCAVELLA
Tribune Staff Reporter
nscavella@tribunemedia.net
A 27-year-old Abaco man was sentenced to two years in prison yesterday for being caught with a loaded gun that he found in the debris left by Hurricane Dorian.
Ted Cornish Jr, of Dundas Town, was sentenced by Magistrate Samuel McKinney after admitting to being caught with a 9mm pistol on September 13.
According to police, while on mobile patrol around 3.45pm in the area of Sweeting Village near New Vision Ministries, Corporal 2691 Durham observed a black Suzuki minivan enter the church's yard. While passing the minivan in a marked police truck, Cpl Durham saw Cornish—who was driving the minivan–throw an object to the back of the van.
Cpl Durham turned the police truck around and drove to where the minivan was. His partner, Sergeant McDonald, got out and approached the other vehicle. He identified himself as a police officer to Cornish and told the young man to get out of the vehicle.
When Sgt McDonald told Cornish he would like to search the vehicle, Cornish said: "Go ahead, but I know y'all ga lock me up (sic)." Sgt McDonald asked the young man why he had said what he had said. Cornish replied by repeating what he had said.
Cpl Durham said he watched as Sgt McDonald searched the minivan while Cornish looked on. Sgt McDonald eventually discovered a black hoodie, and in its front right pocket was a teal and silver SCCY 9mm, serial number 310214. When Sgt McDonald checked the gun in Cornish's presence, it was found to have eight live rounds of ammunition in its magazine.
Cornish was subsequently cautioned and arrested, and he and the firearm were taken to the island's government complex for safe keeping.
At 4.34pm that day, Corporal Desmond Rolle interviewed Cornish about the firearm at the government complex. It was during that interrogation that Cornish admitted to being in possession of the firearm. Cornish further explained that after Hurricane Dorian had passed, he drove around town looking through the piles of debris, when he found the gun. He said he consequently decided to keep it for his protection.
For his actions, Magistrate McKinney sentenced Cornish to two years for possession of an unlicensed firearm and one year for possession of ammunition. The sentences are to run concurrently.
Inspector Philip Davis prosecuted the matter.