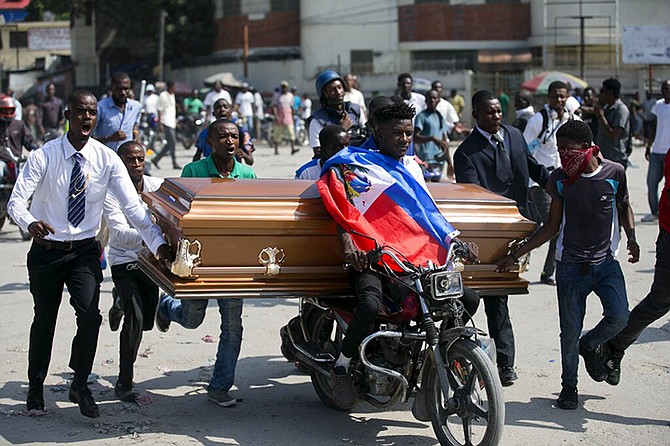 By SYANN THOMPSON
Tribune Staff Reporter
sthompson@tribunemedia.net
OFFICIALS of the International Organisation for Migration have confirmed that there has been an increase of immigrants leaving Haiti to escape the recent turmoil.
The Associated Press reported this week that more than 40 people have been killed and dozens injured in more than two months of demonstrations organised by opposition leaders demanding the resignation of President Jovenel Moïse amid anger over corruption, ballooning inflation and a scarcity of basic goods.
AP reported that at least four people were shot and wounded during a small protest in Haiti's capital on Monday after a speech by President Moise.
Over the last several weeks, Haiti's national police have also been protesting and threatening to send the country into chaos if their government does not pay them six months of salary they are owed.
IOM's Chief of Mission in Haiti, Giuseppe Loprete told The Tribune that the UN agency has been monitoring the protests and confirmed that since former Haitian Prime Minister Jean-Henry Ceant resigned in March, there has been an increase of Haitians fleeing their homeland due to the socio-economic deterioration.
"According to what we are monitoring at the borders, the flows are constant with inflows and outflows and we noticed an increase of migrants attempting to go by sea to Turks and Caicos and the Bahamas from the northern shores of Haiti," Mr Loprete said.
"Not massive numbers but an increase and also interception of these boats. A lot of migrants are trying to reach other areas in the region, also in South America, Brazil, Chile or they go to Dominica, because they do not need a visa to go. From Dominica they try to go to Guadeloupe and other neighbouring countries. There are Haitian communities in Mexico as well, in Panama and Costa Rica, these are also among the destinations that they are trying to reach," said Mr Loprete.
Since the Haitian prime minister resigned, the country has had to wait on Haiti's Senate for the administration of the government. According to Mr Loprete, Haiti has faced several crises due to the political instability. "In the phase it's in now which started in September, it involved schools. So now schools are closed, over two million children are not going to school and there's been a shortage of fuel because of negotiations with the providers of fuel and currently 40 percent of the population are in dire need of food and security," he said.
Meanwhile, the UN agency on the ground in Haiti is mandated to assist migrants through humanitarian relief and gathering information to identify the types of migrants who leave Haiti. The IOM chief of mission in Haiti said that the agency has been assisting those in need as they have offices throughout the country. "We provide assistance to the most vulnerable migrants, we have several offices along the border in the north of Haiti as well as near the Dominican Republic. So, if vulnerable migrants are identified they can come to the facilities, we have psychologists and other partners like the Red Cross. For example, pregnant women, mothers, unaccompanied minors, families and those in need of medical assistance," he said.
Nevertheless, Mr Loprete said that the kind of work they do and due to the demand in Haiti, the UN agency will need the assistance of international partners to increase their resources for more opportunities, including local development projects in the impoverished nation.