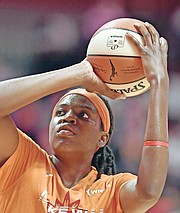 By RENALDO DORSETT
Tribune Sports Reporter
rdorsett@tribunemedia.net
JONQUEL Jones starred for Bosnia and Herzegovina women's national team and several other Bahamian players posted double doubles to lead their team in their respective leagues across Europe this week.
Jones finished with 29 points and 16 rebounds to lead Bosnia and Herzegovina to a 70-69 win over Russia in the first round of the EuroBasket 2021 qualification yesterday.
Jones hit a three-pointer to give her team a 70-66 lead with just 16 seconds left in regulation. Russia answered with a three to pull within one and had a chance to win it on the final possession, but Jones was key on a defensive stop to put the game away. Bosnia and Herzegovina will face Switzerland on Sunday.
At the club level, Jones is a member of Russian Premier League powerhouse UMMC Ekaterinburg this offseason as the team looks to repeat as EuroLeague champions.
After she missed the first four games of the season, she made her debut on November 3 with 11 points and seven rebounds over Spartak.
A stacked UMMC Ekaterinburg roster also includes several WNBA stars - Finals MVP Emma Meessemen of the Washington Mystics, Brittney Griner of the Phoenix Mercury, Allie Quigley and Courtney Vandersloot, both of the Chicago Sky.
Last season, Jones' first with the club, Ekaterinburg captured their second consecutive and fifth EuroLeague title with a 91-67 win over Dynamo Kursk in Sopron, Hungary. She appeared in eight games and had 19.6 points and 7.6 rebounds per game. She shot 60 per cent from the field, 52 per cent from three-point range and 80 per cent from the free throw line. She looks to continue her offseason success which also includes appearances in China and Korea.
In France, Kino Burrows continues to be a dominant force for Aix-Maurienne Savoie in the French LNB Pro League.
Burrows was named game MVP in his last outing when he posted 26 points and 12 rebounds in his club's 90-78 win over Quimper UJAP. The win also ended a three-game losing streak for Aix-Maurienne Savoie. He has averaged 14.8 points and 7.6 rebounds per game thus far on the season.
Burrows signed with Aix after he spent the previous two seasons in France with Fos-Sue-Mer Byers.
In an injury plagued season, he averaged 8.6 points and 3.4 rebounds per game last year for the Byers.
Dwight Coleby posted another double double for Sigortam.net ITU in Turkey's BSL League. He finished with 18 points and 10 rebounds in a 94-76 loss to Bandirma.
Coleby is with his third team in as many seasons and is averaging 14.5 points and a team-leading 8.2 rebounds per game.
He spent a portion of last season alongside his brother Kadeem Coleby with the Happinets following a short stint in Belgium with Liege Basket in Belgium's Pro Basketball League (PBL).
Dwight returned to Leige Basket and the PBL following his stint in Japan.
Another national team member, Johnathan Augustin-Fairell posted a double double for his team in Belgium.
Augustin-Fairell was MVP of the game and led Basic-Fit Brussels to an 87-66 Liege Basket. He recorded a double-double by scoring 21 points and grabbing 14 rebounds with two blocked shots. The veteran forward is averaging 12 points and 7.3 rebounds per game.