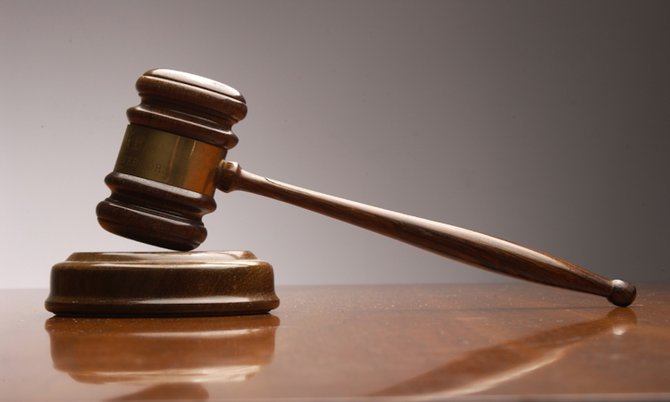 By DENISE MAYCOCK
Tribune Freeport Reporter
dmaycock@tribunemedia.net
A Crown Prosecutor is seeking 40 years' imprisonment for convict Doyle Mackey for the attempted murder of three men at a public cemetery in East Grand Bahama three years ago when two brothers were also shot dead.
Erica Kemp, senior Crown counsel in the Office of the Attorney General, told the Supreme Court at a sentencing hearing yesterday that the shootings by Mackey and his cohorts were an "egregious act of violence".
Mackey, a 47-year-old self-confessed "dope and drug dealer", was on trial in May for the murders of brothers Carlos and Carlton Hamilton, and the attempted murders of Jermaine Ferguson, Joshua Williams, and John Edgecombe who were shot at the McLean's Town Cemetery in East End, Grand Bahama, on November 3, 2016.
On May 9, the 12-member jury returned a hung verdict of 11-1 not guilty in the two murder counts, but found him guilty by a vote of 11-1 on the three attempted murder counts.
Carlson Shurland represents Mackey, who had claimed during his trial that he shot the men in self-defence, which was rejected by the jury.
During Tuesday's sentence hearing, Acting Chief Justice Estelle Gray-Evans heard from Probation Officer Felicia McBride of the Department of Rehabilitative and Welfare Services, who conducted a probation report concerning Mackey, who had admitted during interview sessions to being "a dope and drug dealer".
Ms McBride conducted two interviews, totaling some three hours, with Mackey. In her report, she noted that the accused showed no remorse for the shootings of the three men who were seriously injured.
According to the report, Mackey, a native of New Providence, had moved to live in Grand Bahama for some time attending a private school where he got into trouble for fighting. He returned to New Providence, but never graduated and was expelled from CC Sweeting High School.
At age 27, Mackey was charged and found guilty in the Magistrate's Court of firearm and ammunition possession for which he was fined $2,000.
He later relocated to Florida where he was incarcerated as an inmate in the Broward County Prison, in South Florida, and deported to The Bahamas after serving his time.
In 2016, Mackey, at age 44, found himself in trouble with the law again in Grand Bahama in relation to firearm possession in connection with the graveyard shooting of five persons in East Grand Bahama.
Mrs Kemp told Acting Chief Justice Evans that the convict has no remorse even after being found guilty by a jury of his peers of the attempted murders.
"He has no remorse. He cannot continue to hide behind some half-given story that was rejected by the jury, and the convict continues to deny it," she said.
"What he did was a vicious act, three persons but the for the Grace of God could have lost their lives. The facts show that the jury accepted the evidence of the victims that they were unarmed when they were shot by the convict," she said.

Prosecutor Kemp indicated that the aggravating factors outweighed the mitigating factor, outlining that Mackey has a history of violent behaviour, that he was a high school drop-out, and that at age 44 he was convicted of possession of a firearm and ammunition possession, and that he shot multiple victims multiple times.

"He admits to being a drug peddler, a drug dealer, and a dope dealer," she added.
Mrs Kemp also told the judge that Mackey attempted to flee the jurisdiction and that he never reported the shootings.
"He has a criminal history in and out of the jurisdiction," she added.
The crown prosecutor also said that the psychiatric report prepared by Dr John Dillet concludes that the convict does not suffer from any mental illness.
"The Crown suggests that a sentence for 40 years on each count of attempted murder to run concurrently is appropriate minus the time spent on remand," Mrs Kemp told the judge.
"My lady, this was an egregious act to say, a vicious act, having regard to the age of the convict. Having been in trouble with the law before, at 47 years old now, how do we rehabilitate a 47-year-old?" A person who is a drug dealer, a person who had been in possession of a firearm and ammunition before?"
Carlson Shurland argued that the prosecution's suggestion of a 40-year prison term is not an appropriate punishment, but more like a life sentence for his client in terms of his age.
He said his client, who is 47, would be in jail until age 88.
"She is saying to him let the State take care of you until he dies; it is not about punishment," Mr Shurland said.
He noted that the matter involving his client could be considered as an "exceptional situation".
Mr Shurland indicated that "the circumstances surrounding the crime came about through exceptional circumstances".
"We see in Mr Mackey a very good, decent person," he said. We don't see a cold-blooded heartless conniving killer."
During his questioning of Ms McBride on her probation report, Mr Shurland had pointed out that Mackey's sister and mother had described the attempted murders as "uncharacteristic" of Mackey, a father of two children ages, 21 and 14 years, who was described as a "mild-mannered person".
In terms of his client's criminal history, Mr Shurland noted that his client was only 27 years when he was first convicted of possession of firearm and ammunition and fined, and cautioned by a magistrate.
He noted that his client hadn't had any run-ins with the law since 2016.
"She is making it seem he is a menace to society, and it is wrong to put it in that context without identifying…the frame of reference when it was expunged," Mr Shurland said. He accused the prosecution of going on emotions suggesting a 40-year imprisonment.
Chief Justice Evans adjourned the sentencing to Wednesday at 12.30pm when she will deliver the sentence.