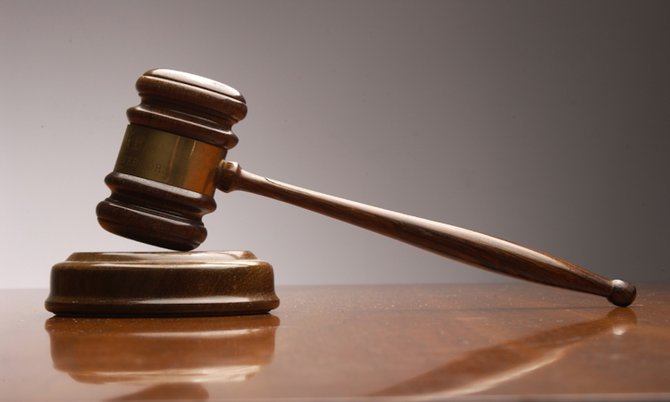 By DENISE MAYCOCK
Tribune Freeport Reporter
dmaycock@tribunemedia.net
A man convicted of possession of dangerous drugs with intent to supply was sentenced to one year in prison and fined $2,000 by a Freeport Magistrate on Friday.
Stanley Pratt, 28, of No 1 Arden Forest, and two others – Christopher Cooper, 34, and Shanika Davis, 25, both of No 16 Shannon Drive, Freeport – were charged with possession of dangerous drugs with intent to supply.
It is alleged that on July 11, at Freeport, the defendants possessed dangerous drugs– Indian Hemp – with intent to supply.
Pratt pleaded guilty, while Cooper and Davis pleaded not guilty to the charge.
According to the particulars, officers while on duty went to a residence at No 16 Shannon Drive where they executed a search warrant. When a male occupant refused to open the door, officers forced their way through a metal gate to gain entry to the residence.
The prosecutor explained that officers encountered a man, identified as Christopher Cooper, who was shown the search warrant. While there, two other persons, Pratt and Davis, were also discovered at the residence.
The officers searched the residence and discovered 4.42 pounds of what was suspected to be marijuana and $435 cash. As a result, the three occupants were arrested, cautioned and interviewed.
The police prosecutor said that Pratt admitted knowledge, custody and control of the marijuana, and all three of them were charged for possession of marijuana with intent to supply. She said the drugs have an estimated street value of $4,420.
The Prosecutor accepted the guilty plea of Stanley Pratt and requested that the charge be withdrawn against Cooper and Davis.
Lawyer Simeon Brown, representing Pratt, told the judge his client is a friend of Cooper and was visiting the residence where he had spent the night.
He said that Pratt, who admitted to possession of Indian Hemp, smokes it, and uses it for medicinal reasons to relieve pain, and for hygienic purposes to make tea.
Mr Brown explained that marijuana is a popular substance of use not only in the Bahamas, but in the entire Western world. He noted that marijuana is legalized in some US states, and also in Canada, which is a part of the Commonwealth.
Mr Brown also stated that marijuana use is legal in the Caribbean, and there is currently debate as to whether it should be legalized in the Bahamas.
"It is perceived to be of positive use to humanity," he said. He also noted that it is popular among young people all over the world. "It is an old university drug and one US president even said he smoked, but did not inhale," the lawyer said.
The attorney stated that his client recognize that it is an offence in the Bahamas. "He (Pratt) apologizes and asks for the court's mercy," Mr Brown said.
He also stated that Pratt is a young man who is employed and has a lot of potential.
"We are asking for a non-custodial sentence, and we think it would be too harsh to impose a custodial sentence," Mr Brown told the judge.
The attorney requested that a "reasonable" fine be imposed as the drugs found were under five pounds.
In his mitigation, Brown also noted that his client had save the court's time and cost by not having to deal with a trial.
"We are asking for mercy," he said. "Do not throw him under the bus, give him a chance."
Magistrate Smith convicted Pratt of the offence and noted that four and a half pounds of marijuana is a significant amount to possess.
Pratt explained that he was just visiting the residence. "I smoke it for personal reasons, I don't sell it," he said.
After taking into consideration Pratt's early plea and the fact that he has no antecedents, the judge explained that he has to balance it against what the law is and the adverse impact to society in relation to the quantity of drugs discovered.
He sentenced Pratt to one year and ordered him to pay a fine of $2,000 or serve an additional six months. He also ordered that the drugs be destroyed.
Mr Brown challenged the sentence and said that there has been no case in the last four years where someone was given a custodial sentence for the quantity of drugs that was discovered in Pratt's case.
"This is a harsh sentence, this is not cocaine," Mr Brown argued. Pratt then pleaded with the judge again not to send him to prison. "I don't sell it; I can't go to prison. I will do community service," he told the judge.
Mr Smith then discharged Davis and Cooper of the charge.